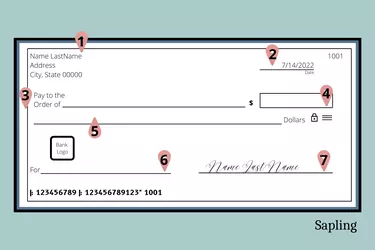 Regarding people discussing making payments, you might hear someone mention they'll "cut a check" to some payee. According to Merriam-Webster, this idiom in the English language simply refers to writing out a check rather than physically cutting it. While many have turned to electronic payment formats like Apple Pay and debit cards, you could still find yourself in a situation where you need to pay someone via a physical check. So, you should learn how and why you should cut checks.
Definition of Cutting Checks
When you cut a check, you're using a payment method that will debit the amount of money from the bank account associated with the check when the recipient cashes it. You'll often get a checkbook when you open a checking account or order checks later. You might also request a certain type of bank check, such as a certified and cashier's check. Cutting the check would then involve filling out all parts of the check and either sending the check in the mail or presenting it in person.
The origin of the term "cut a check" may relate to the days before perforated checks were available, since you'd have to actually cut out the check back then. The Free Dictionary also mentions that the phrase could relate to businesses making their own checks with machinery. However, modern check paper features perforation that eliminates the need for any cutting.
You might cut a check since it's a more convenient option than giving the payee some cash. The Consumer Financial Protection Bureau explains you also get some protection with checks, whether you need to dispute a payment or report a lost or stolen check. In cases where a business charges money for card transactions or electronic bank transfers, cutting a check can save you that fee.
Checks also have many uses for daily transactions between individuals and businesses. For example, you might cut a check to the IRS to pay taxes due with your income tax return or to pay your landlord the monthly rent. Your employer might cut you a payroll check on a weekly, biweekly or monthly basis, while they could also cut a business check to a supplier.
To cut a check from your bank account, you'll need to know the amount of money you're paying and the name of the company or individual who is the recipient. You'll also want to ensure you've got sufficient funds in your account to avoid the check bouncing and possibly incurring associated fees.
After grabbing a check from your checkbook, you'll then fill out the fields, including the date (image item 2), name of the recipient (image item 3), amount of the check both in numerical (image item 4) and written forms (image item 5) and any note in the optional memo field (image item 6). Lastly, you'll need to sign your name in the signature field (image item 7).
Huntington recommends noting the check in the check register inside your checkbook. You can also use your online banking portal to see activity when your check clears.
Here are some FAQs to know if you plan to cut checks.
What Is the Average Cost of a Check?
You usually don't have to pay a fee to use a check as payment, unless you're requesting a special bank check like a cashier's check. However, you will incur any cost for the paper checks themselves, and this amount can vary by bank or retailer, the number of checks and the check type. For example, Bank of America provides free personal checks to some customers, while Checks.com has options beginning at ​$4.95​ per pack.
According to Cornell Law School, a check is a type of negotiable instrument where a payer orders their financial institution to pay the stated amount from their bank account to a payee. The check should be valid as of the date stated on it, and only the named payee should be able to cash it.
How Would You Cut a Check?
You'll need a bank account with check-writing privileges to cut a check from that account, although you can consider bank check options too. Cutting the check would then include filling out all the check details accurately, signing the check and then presenting the check to the person you're paying.