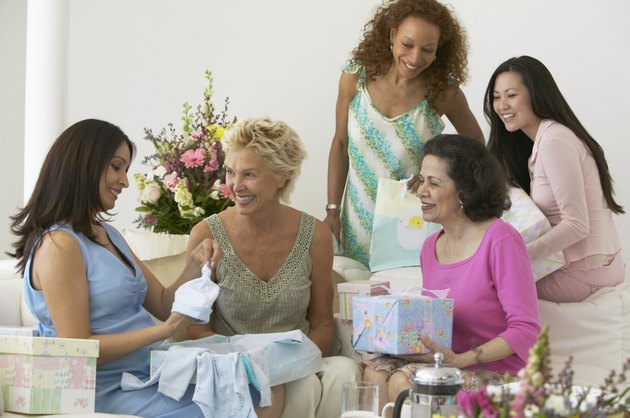 The joy of a baby shower is in celebrating the mom-to-be and the excitement of her new baby. Hosting one shouldn't put a strain on you financially. Gathering friends and family to spend a few hours with the guest of honor is free and you can do the rest on a smaller budget than you may think.
Planning the Shower
Step 1
Choose where the shower will be held. Your home or a friend's home costs nothing and gives you more flexibility on time and decorating. A backyard baby shower provides a natural decor, saving money on decorations.
Step 2
Determine the best time to have the shower. Plan for in-between meal times to save on food costs. A 10:30 a.m. to 12:30 p.m. brunch or a 2:00 p.m. to 4:00 p.m. tea each require simple refreshments.
Step 3
Create the guest list. If other showers are planned -- co-workers, extended family -- don't feel that you have to invite everyone to yours. Keep the list as small as possible for an intimate event.
Step 4
Collect guests' email or mailing addresses. Save money by sending an electronic invitation or by creating your own to mail. Request an RSVP with enough notice to adequately plan your food and beverage needs.
Step 5
Purchase as many refreshments in advance, so you can take advantage of sales. Most beverages can be stored until needed and some food items will also keep.
Throwing the Shower
Step 1
Shop at discount stores for decorations and supplies. Purchase non-baby-related decorations in the colors of the nursery or the theme of the shower. Add matching plates and napkins in solid colors to a few packs of the more expensive printed items. Or, for greater savings, use your own dishes and utensils.
Step 2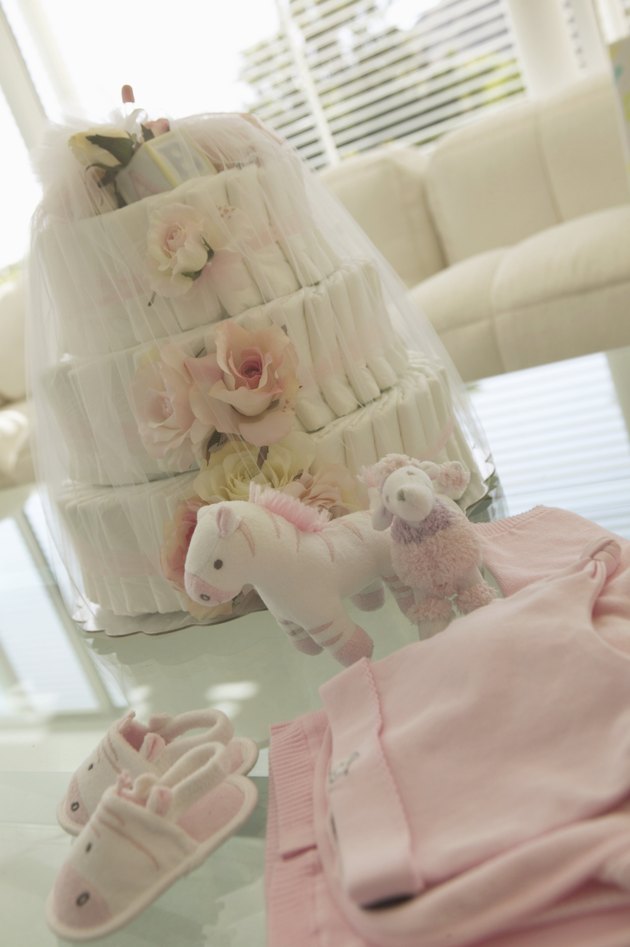 Create decorations out of items the future mom can keep as gifts. Diaper "cakes" are popular gifts and double as an eye-catching centerpiece. Pin baby clothes to a length of sturdy string and hang as a clothesline decoration that mom can take home.
Step 3
Make light foods that guests can snack on without sitting down for a formal meal. Chips and dip, finger sandwiches, raw vegetables and cheese and crackers are easy to eat as you mingle. Mini quiches, fruit and muffins are tasty options for a brunch shower. Make cupcakes in place of purchasing an elaborate cake. Personalize them with matching frosting or the baby's first initial. Offer hot or cold teas, lemonade and a light punch for beverages. To save more money, make it a potluck and ask each guest to bring an appetizer or dessert.
Step 4
Fill a clear jar with candy for a "guess how many are inside" game. The winner receives an inexpensive gift like soap or a candle, while each guest can scoop some candy into a plastic bag for their favor.
Tip
If another friend or family member offers to assist in the shower, take her up on it to save some money.
Use fresh flowers from your or another guest's garden for decor.
Things You'll Need
Refreshments

Decorations

Dishes and utensils

Diapers

Clothesline or twine

Clothespins

Baby clothes

Clear jar

Candy
Warning
Avoid holding the shower at the expectant mother's home, as it can cause her unnecessary stress.