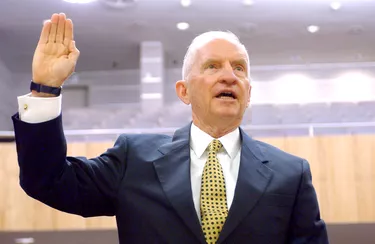 Ross Perot is a wealthy entrepreneur from Texas who ran for President in 1992 and 1996. Much of his fortune came from his businesses he started in Texas. He is the founder of two companies, EDS (Electronic Data Systems) and Perot Systems. Perot Systems in 2009 had an estimated worth of total assets of $2 billion. EDS was estimated to be worth $13.9 billion as of year-end 2008.
Net Wealth
Ross Perot's net worth was estimated to be about $4.5 billion in 2008. According to Forbes magazine, Perot in 2014 was ranked at No. 415 among the world's billionaires and at No. 152 in the U.S., with a net worth of $3.9 billion.
Early Success of EDS
EDS or Electronic Data Systems was founded in 1962. EDS processed data for large corporations. It got its first big break by being awarded contracts to manage the data for Medicare. By 1968, the stock price of EDS rose from $16 to $160 per share.
Sale to General Motors
In 1984, General Motors bought EDS from Ross Perot for $2.4 billion. He remained owner of the company by owning a majority of the stock and becoming a member of the board of directors. In 1986, due to disagreements between Perot and the CEO, Roger Smith, Perot sold his shares to General Motors for $700 million. This sale held conditions that Perot would not compete with the company directly for three years.
Perot Systems Corporation
Perot Systems is a consulting and technology business operations company founded by Perot in 1988.
Expansion of Perot Systems
Perot Systems Government Services was established in 2002 and was created to exclusively consult the federal government in IT services. This was accomplished through the acquisition of ADI Technology and later in 2004, the acquisition Soza & Company, Ltd.