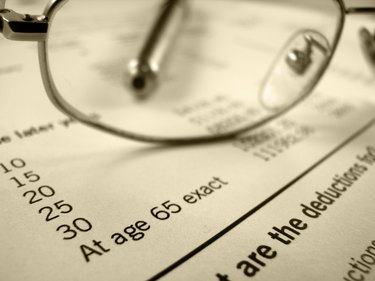 Employers and employee organizations offer pension plans that provide retirement income to the participant or his eligible surviving family member. But retirees or their beneficiaries can lose track of a pension if many years have passed with no contact from the original plan owner. The U.S. Department of Labor and other federal agencies enforce compliance with pension regulations and protect consumers who are entitled to pension benefits.
Pension Benefit Guarantee Corporation
Perform an online search for an old pension from a private company on the website of the Pension Benefit Guarantee Corporation, or PBGC. The PBGC, which insures private company pension plans, collects information about defunct pension plans and plans that it assumed control over because of mismanagement. The search data include only those participants whom PBGC has been able to contact. The search engine requires you to enter the company name and location, and the participant or beneficiary name, into the search form.
Abandoned Plan Search
Perform an abandoned plan search for a private company plan on the website of the U.S. Department of Labor, or DOL. The Employee Benefits Security Administration, an office of the DOL, considers a pension plan abandoned if no sponsor is available and the plan shows no activity for at least one year. Search for the plan by the employer name and location, plan name or the name or location of the plan's qualified termination administrator.
Federal Employment
Contact the U.S. Office of Personnel Management at 202-606-1800 if the pension or annuity plan participant was employed as a civilian by a federal government agency, including the U.S. Postal Service and the military. Veterans and survivors should contact the U.S. Department of Veterans Affairs about military pensions. If you suspect an old pension is unclaimed from employment at a railroad company, contact the U.S. Railroad Retirement Board, whose website provides a list of field offices throughout the U.S.
Look for Changes
The company might have filed bankruptcy or moved to a different state. Perhaps the company changed its name, reorganized and split into different companies or was bought by another company. Companies sometimes convert pension plans to annuities or contract with outside plan administrators or insurance companies to manage the plan or hold funds for participants it cannot locate. Your change of address could mean mail was returned to the plan sponsor as undeliverable.
Documentation and Other Resources
Find documentation, information and other resources to help with your search. If you might be entitled to a private company pension, the Social Security Administration sends you a Notice of Potential Private Pension Benefit Information with instructions to contact the plan sponsor. Old benefit statements, pay statements and W-2 forms can help with your search. Submit Form SSA-7050 to the Social Security Administration to request your earnings record, which will list employer information. Conduct an Internet search, search bankruptcy records or contact union organizations. Even if DOL and PBGC searches were unsuccessful, contact those agencies for help.
Claiming the Pension
Contact the employer, the plan administrator or the PBGC and provide your dates of employment and copies of the documentation that show your eligibility for a pension. Ask for copies of records that document your employment and participation in the pension plan. Request a mailed copy of the summary plan description and ask about an appeal if you disagree with the decision about your eligibility.