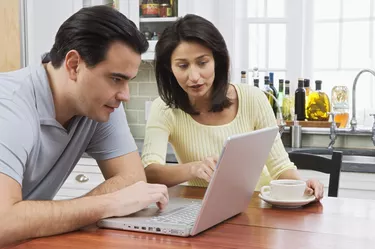 With all the perks and offers banks make to consumers, it can be easy to sign up for more accounts than you really need as you search for the best checking and savings accounts. Alternately, scam artists may sign up for such accounts in your name, which may cause damage to your credit that can prevent you from securing new bank accounts, loans and other opportunities. Luckily, there are many easy, free tools you can use to keep track of all the bank accounts that may exist in your name.
Active Bank Account Search by Name
If you are trying to determine whether or not someone has opened a checking, savings or credit card account under your name, you can request copies of various consumer reports. The most famous such report is the credit report, which is administered by consumer reporting companies Equifax, TransUnion and Experian. Credit reports have grown increasingly accessible through online banks and may also be requested annually and for free at AnnualCreditReport.com. Use your name, Social Security number and mailing address. Monitor your credit report to be sure that no accounts or loans have been opened in your name.
Yahoo! Finance notes that whereas your credit report will monitor for credit card accounts opened in your name, checking accounts do not show up there. If you want to monitor any new checking accounts that may be opened under your name, you can request a copy of your checking account report. As with credit reports, the companies that administer checking account reports are monitored and regulated by the Consumer Financial Protection Bureau (CFPB). The CFPB offers an up-to-date list of check and bank screening companies. You are entitled by law to a free checking account report, annually, at your request. Some of the best online banks will offer you one for free as a perk of being an account holder.
Inactive Bank Account Search by Name
A rigorous bout of spring cleaning may produce a long-forgotten bank statement from an institution you no longer patronize. You may wonder how to find these accounts. The answer may seem hard to track down, especially if the bank in question no longer exists or does not retain records of your account.
The first step in recovering funds from a long-forgotten bank account is to contact the issuing institution with your name and information. If the bank has kept the account active, you should be able to easily retrieve the funds. If the account has become inactive or if the bank in question no longer exists, they have likely transferred the funds over to the state.
The United States government dictates a process called escheatment. The Federal Deposit Insurance Corporation (FDIC) defines this as the transfer of unclaimed funds or property to a state government. State laws require financial institutions to transfer abandoned funds to the government within a given period of time, which is typically three to five years.
Additional Tips for Searches
The National Association of Unclaimed Property Administrators maintains a state-by-state listing of unclaimed property departments. These departments allow you to search by name for any money the state may be holding on your behalf. The FDIC tracks unclaimed funds from banks that have failed or closed, and this database is also searchable by name.
The AARP recommends you proceed with caution if you choose to hire a company to assist you in retrieving funds from lost bank accounts. Fraud is common among these companies and you should never work with a company that requires you to pay upfront rather than taking a cut of the recovered money once you've received it.