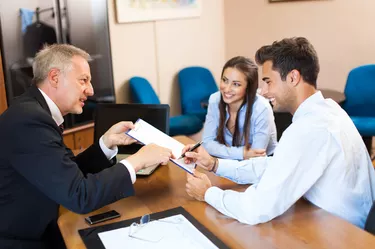 You found a house, bought a house, secured a mortgage for the house and, since it's true that there's a first time for everything, must begin making mortgage payments on the house. Whereas yesterday's homeowners had one way to make a payment – known as "snail mail" – today's homeowners often have multiple options. You do, too, if you secured your mortgage from PHH Mortgage, a subsidiary of Ocwen Financial Corporation. Making a payment to PHH Mortgage couldn't be easier – even if you like the idea of cutting a check, popping it into the mail and finding out how fast that snail can crawl.
Make a Payment on Your PHH Mortgage
Remember that the snail needs a handicap in the form of four or five business days so that your payment arrives by the due date. For a traditional mortgage, send your payment to:
PHH Mortgage Services
P.O. Box 94087
Palatine, IL 60094-4087
If you wish to make a payment on a home equity line of credit – abbreviated in the industry as HELOC – send a payment to:
HELOC Accounts
PHH Mortgage Services
P.O. Box 0055
Palatine, IL 60055-0055
You may wish to contrast that tactic with making a mortgage payment by phone. Get your Visa or MasterCard credit or debit card ready, call 1-800-449-8767 and then follow the prompts.
If this method appeals to you, you may wish to set up your own prompt, in the form of a reminder on your smartphone. You may need it: Unlike a paper envelope, which can serve as a reminder that a mortgage payment is coming due, "dialing in" a payment comes with no such physical reminder.
Other PHH Mortgage Services Payment Methods
Paying by phone is a paperless pay method, but you can ramp it up even more by paying your mortgage online or by signing up for the company's AutoPay program. For the former, go to the company's "paperless" page and create a PHH mortgage login.
From this point on, you will be able to access your account 24/7, knowing that your private information is secure.
If you think that making a payment online is simple, the latest entry to the paperless domain is even more so. AutoPay allows you to set up a monthly day on which the amount of your mortgage payment is automatically withdrawn from your savings or checking account. First, you will have to create an online account. Once you do, you'll never have to think or worry about missing your payment date – a big black mark on your credit rating. It's the proverbial "win-win" arrangement for both you and PHH.
To members of Generation Y and Z, paying a mortgage and other bills by check (and snail mail) may seem archaic. But to the people who make a habit of stacking envelopes next to a pile of stamps once a month, it can be an empowering feeling to take a hands-on role with their finances.
PHH's paperless pay and AutoPay methods are set up to usher this stance into the technology age. In fact, the company expects that you will take an active role in managing your account by:
Getting company notifications and alerts.
Making use of the online tools and calculators that can show you, with a few clicks, how you can pay off your mortgage (and save interest) before the term is up.
Scrolling through a section called "my neighborhood," which contains valuable real estate information, particularly "comps" (comparable house sales in your area).
And if the information you read prompts a question? A snail won't be able to help, but you can pick up the phone and call PHH at 800-449-8767.