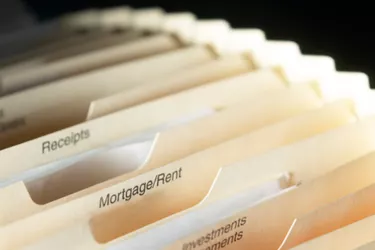 You may have lost some of the documents that contain information about financing your home. A deed of trust or mortgage note will reflect the terms of the original agreement between you and your lender. A mortgage agreement should be kept in a safe place, as it might be needed for selling your home or estate planning. Storing your original mortgage documents in a fire-safe file box will organize and protect your information.
Step 1
Write a letter to your mortgage company to request your original mortgage agreement. Include your name, address, phone number and loan number within your letter. Ask the provider to send your mortgage agreement to the address shown.
Step 2
Send a copy of your request to your mortgage lender. Use certified mail or a service that provides a tracking number to obtain information about your delivery.
Step 3
Call the title company or attorney who settled your closing of escrow. Request a copy of your original mortgage agreement. Ask if you can visit the office to receive a copy or instruct the title company representative to mail the document to your address.
Step 4
Go to the County Recorder's office to view your original mortgage agreement. Check the land records section to locate real estate information. Pay fees which can vary by county for a copy of your mortgage agreement.