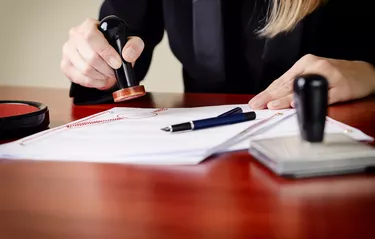 The substitution of trustee and full reconveyance document help facilitate the release of a mortgage lien from your home or other real property. The full reconveyance document releases your mortgage lender's lien from your property. At that point, you own the property free and clear from the mortgage. The substitution of trustee gives the mortgage conveyance trustee (the person signing the full reconveyance document) legal authority to release the mortgage lien.
Verify Name on Substitution of Trustee
Mortgage lenders can make mistakes, and those mistakes could result in your property remaining subject to the mortgage lien. You need to verify that the mortgage lender has crossed all the i's and dotted all the t's. Verify that the lender has actually signed the substitution of trustee and has identified the correct person as the new trustee. The person identified in the substitution of trustee should be the same person who signs the full reconveyance document. If there is a discrepancy, then you will need to get your mortgage lender to resolve the discrepancy.
Check Property Legal Description
Both the substitution of trustee and the full reconveyance will include a legal description of your property. It is a good idea to verify that the legal description in the substitution of trustee matches the legal description in the full reconveyance. Even more important, make sure both descriptions match the legal description in the original deed of trust that you signed with the mortgage lender.
Verify Recording of Mortgage Release Documents
Many state laws provide that a full reconveyance and the accompanying substitution of trustee documents are ineffective unless they are recorded in the local county property records. Recording means filing a signed copy of the documents in the public records. Recording requires a small fee. After recording, a recording stamp will appear in the top right corner of the first page of each document. The recording stamp identifies the date of recording and the public record entry number. If your documents do not have this recording stamp, then you need to take them to the local county land records office for recording.
Save Copies of Mortgage Release Documents
Save a recorded copy of each of the two documents in your permanent records. When it comes time to sell or give away your property, you will need to show that the property is free from the mortgage lien. Mistakes happen in county land records offices, and mortgage lenders are large institutions that also make mistakes from time to time. Having a copy of the mortgage release documents will help easily resolve any issues that may arise in the future regarding the mortgage lien.
Instead of storing the copies of these important documents in a hard copy, consider copying them onto a USB drive. Once the pages have been copied, the USB can be stored in a filing cabinet, a home safe, or in a safety deposit box to keep the information secure until it is needed.