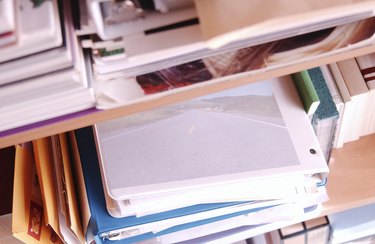 Organizing your documents will not only keep your important files at hand but will also protect them if properly stored. No one likes the feeling of scrambling through documents, throwing paper around because yoy can't find that important bank statement. Once you organize and file your documents, finding your important files is quick and easy.
Step 1
Calculate the number of file folders, binders and tab dividers that you need. This depends on how many different filing categories you have. It is best to buy these supplies after you have created your filing categories so that you know exactly how many folders you need.
Step 2
Designate a floor space or a large table to make the piles of all your documents. Organizing your documents is a process and, therefore, you want to designate an area where you can make the piles of your sorted documents and leave them sorted there if you don't finish right away. Depending on the amount of documents you have, this could take you an entire weekend, or better yet, spend at least 10 to 30 minutes per day to organize and file your documents.
Step 3
Organize your documents into piles separated into name categories. For example, water bills in one pile and bank statements in another (separate piles for each bank).
Step 4
Make a list of the different named categories (companies or document names) that you have once you have put all your documents into separate piles. For example: Bank of America, Water Bill, Car Loan, State Farm Insurance, AAA, Student Loans, etc. Alphabetize your list. If all your documents are stored in a filing cabinet in alphabetical order, it will make it easier for you to find your documents.
Step 5
Write each of your category names on the tab of the file folder or on a separate paper with tabs that you separate and then insert into the hanging file folder tab.
Step 6
Put all your file folders in the filing cabinet in alphabetical order. Start filing away your document piles. As you file documents into their proper folders, organize the documents in chronological order with the newest on top. Check with state and federal laws when it comes to finding out how long you should keep certain important documents. Some documents, such as IRA contributions, have to be kept permanently.
Step 7
Keep a back-up of important documents -- or if you just want to have the year's documents at hand (for example, for tax purposes) -- by making binders to file copies of your documents in. Depending on the amount of documents you have, separate your documents into categories, such as bank documents, bills and investments. Don't forget to label your tab dividers so that everything in your binder is easily accessible. Put a list of the tabbed categories in the front of your binder. You can also scan all your important documents and keep electronic copies as a back up.
Tip
To better keep track of what types of filing categories you have, keep a clean alphabetical list of all your separate filing categories. You can place this list in the front of your filing cabinet as a terms of reference. A fire proof cabinet will safeguard your important documents in case of a fire or burglary (if you lock your cabinet).
Things You'll Need
File folders (hanging ones are best)

Tab dividers

Binder(s)

Fireproof filing cabinet