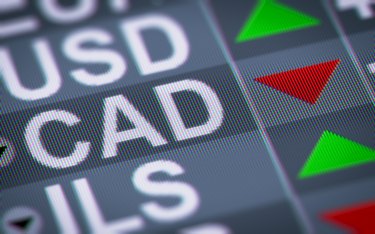 Stock investments can create a significant source of income for an individual investor. Some individuals trade stocks on a full-time basis, while others buy and sell stocks as a source of supplemental income. In Canada, over $2 trillion is traded on the Toronto Stock Exchange (TSX) on an annual basis. Canadians also often invest in U.S.-based stocks and mutual funds. The recent ability to manage stock portfolios through the Internet has increased the popularity of investing. Learn how to buy stocks online in Canada in order to increase your income potential.
Step 1
Determine whether you wish to buy stocks through a stand-alone investment account or through your current financial institution. Some of the larger Canadian banks, such as the Royal Bank of Canada (RBC), allow customers to invest a portion of their savings account in stocks. On the other hand, stand-alone investment accounts typically offer more features for investors and allow individuals to customize their investing strategy using a variety of investment-specific tools. Thus, stand-alone investment accounts are generally a better choice for investors.
Step 2
Research the Canadian options for an online stockbroker or investment manager. Trading stocks online offers significant savings over a traditional stockbroker by offering individual investors lower fees for buying and selling. Canada has fewer options when it comes to online stockbrokers. For example, some of the biggest U.S. online stockbrokers (such as ShareBuilder) are not available in Canada. Three of the larger online stockbrokers available to Canadians include the Royal Bank of Canada's Direct Investing service (rbcdirectinvesting.com), ING Canada (ingcanada.com) and Questrade (questrade.com).
Step 3
Evaluate each online stockbroker. Request detailed information on their pricing plans to find which broker charges the least amount for your investment lifestyle. Not all brokers are alike. Don't choose a broker just because it has what looks like a cheaper plan compared to its competitors. Some of the cheapest plans may require you to invest a certain amount of money each month, thus costing more than a more expensive plan that does not force you to buy a certain amount of stocks.
Step 4
Register with the online stockbroker of your choice. You will need to provide personal financial information, such as your Social Insurance Number (SIN). You will also need to connect your investment account with a payment option, such as a credit card or a bank account.
Step 5
Consult another stockbroker before buying stocks, and read books that deal with buying stocks for the first time. The stock market offers great potential to make money, but individuals can also lose money if they don't know what they're doing and invest in a poorly performing stock. Do as much research as you can before buying stocks for the first time. Many online stockbrokers provide guides and can help you select the right stocks for the level of risk you are willing to take. Typically, the higher the risk level, the more money you can lose (and earn).
Step 6
Keep track of your stock market earnings from buying and selling stocks. Each year, you will have to pay taxes to the federal government of Canada on any capital gains you have made in your investments. Read the Canada Revenue Agency's guide to capital gains (see Resources).