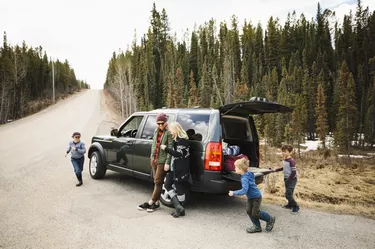 Whether you want to get rid of an unused vehicle or have a car that no longer runs, charities will often let you donate a car without a title as long as the car meets their conditions. If you've lost the car's title or had it destroyed in a natural disaster, you can usually replace the title as long as you have documentation proving that you own the vehicle. The charity accepting your car donation may help you handle the process or offer an alternative so that you can proceed with your donation. You also have other options if donating the car doesn't work out.
Basics of Car Donation
When investigating places to donate a car, you'll find some common requirements the vehicle must meet. Along with these guidelines, charities will usually also have you submit a donation request form to provide specific details about the vehicle and call you to follow up on whether your vehicle qualifies for donation.
Many places don't care whether your car runs well or doesn't start, but they usually don't want cars that have had their parts stripped or have damage from a fire. However, charities only allow you to donate a vehicle for which you have the authority to do so. This means you need to prove ownership of the car and can't just donate an abandoned vehicle you find. The exception is with donating a car that belonged to someone who has passed away; in that case, you'll usually need to show you have inherited the car and present the previous owner's death certificate.
Further, state law usually requires a clear title for vehicle donations, so this means the car must not have a creditor or other party claiming ownership. While you'll often get asked to provide the title, many organizations will allow you to donate a car without a title under the condition that you or they can obtain a valid title for the vehicle. In the end, the title will get transferred to the organization, and they will either recycle the vehicle or give it to someone in need.
Donate a Car Without a Title
Each charity has its own rules on whether it will let you donate a car without a title and whether you or they will handle title issues, so researching multiple car donation options serving your location is helpful. Your options range from local charities where you can drop off the car to national organizations that will arrange a free vehicle pickup. Some charities that will let you donate a car without a title include:
Cars for U.S. Troops: This nationwide charity will allow you to donate a car without a title if you call them at 1-888-693-8032 for assistance and explain the situation. Vehicles can be in any condition except stripped or fire damaged. The organization will arrange for a tow truck if your vehicle is approved for donation and will provide you with a receipt for tax deduction purposes. Your vehicle donation to this organization will go toward helping military members and veterans.
Kars 4 Kids: This national organization's website mentions that your car's condition usually doesn't matter as long as the vehicle hasn't been abandoned. A car title isn't necessary as long as you're the registered owner or official inheritor, and the organization will have you fill out paperwork to obtain the title. You can begin the car donation process on their website or call 1-877-527-7454. Your car donation will help with school, mentorship and recreational programs for children across the country.

Wheels for Wishes: This charity will take your car even if it hasn't worked for years. While they prefer that you have the title, the charity's website states it can usually make arrangements even when you don't have the car title if you call 1-877-431-9474. You can arrange for a pickup in many locations across the country and locate specific areas served on the organization's website. Donations through Wheels for Wishes will help benefit children through the Make-A-Wish foundation.

Goodwill: Your local Goodwill will often let you donate a car without a title or at least offer you support obtaining the title on your own. You can call your local Goodwill to learn about their specific requirements for vehicles and get your donation approved, but your car usually doesn't need to be in working condition. You may either drop the car off yourself or arrange for a pickup if the vehicle doesn't run.
Besides considering these organizations, you can also look into local churches, veterans' organizations, thrift stores, social advocacy agencies, health foundations and shelters as potential car donation options.
Obtain the Car Title Yourself
While charities often will assist with the process or offer some alternative, others may have you obtain the lost vehicle title on your own. As long as you're the registered owner of the car or have authorization if the owner has passed away, this process is usually straightforward and requires visiting your county's title office with some documentation, filling out an application and paying a title fee. You can usually also complete the process by mail and sometimes online.
You'll usually present your driver's license and proof of ownership such as the vehicle registration or vehicle identification number. In situations where you're getting the title on someone else's behalf, you'll need to present a power of attorney. You can expect to get the title in the mail, usually in around 10 business days. Once you have the title, you can reach out to the charity to proceed with donating your vehicle.
After Your Car Donation
After you've donated your car, you have a few follow-up steps to do. You'll want to fill out any paperwork the charity requires for transferring the title. You'll want to take off the car's license plates and visit your local department of motor vehicles to inform them that you no longer own the car. You'll also need to reach out to your car insurance company to cancel any coverage you have on the car.
When you file your taxes for the year, you can consider seeking a tax deduction for your car donation. But keep in mind this will require itemizing, which may or may not be the best option depending on your tax situation. You'll usually report either the sales price the charity charged the buyer or go by the fair market value. The car donation deduction is handled on IRS Form 8283, Noncash Charitable Contributions, and you'll fill out either Section A or B of the form depending on the deduction amount.
Alternatives to Car Donation
If organizations won't let you donate the car due to title issues or very poor condition, you can consider selling the vehicle to a scrapping company. This usually doesn't require having a title and works even if the car has water or fire damage, but you usually need to present a valid vehicle registration.
You can check with local junkyards or research online for vehicle scrappers and get quotes. For example, Donation Line lets you sell your vehicle for scrap online and has an online form that will gather information about the car's condition for a more accurate quote. You can often arrange for a pickup and get the cash within just a few days.
If you can obtain the vehicle's title and the car is in working condition, you might trade it in at a local car dealership or sell it privately. However, this option may not be ideal if repairs are needed to make the car safe to drive.