Stick a sign in the yard and they will come, drop their many dimes and you'll walk away with a larger bank balance. This is the assumption of many first-time home sellers. Imagine the surprise, then, when they learn that selling a house costs money. From marketing costs to taxes, the expenses involved in the sale of a home vary and may be substantial.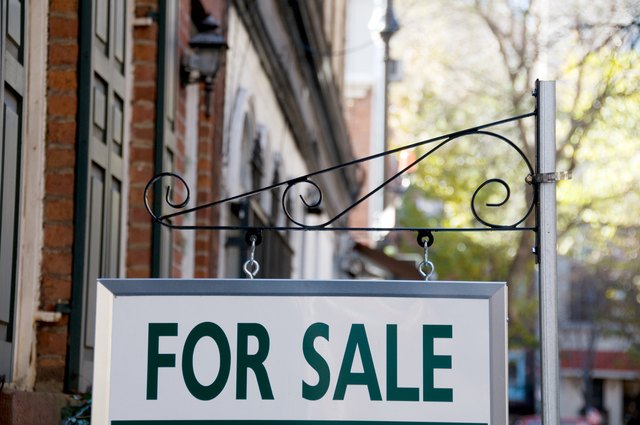 credit: Jupiterimages/Photos.com/Getty Images
Pre-Market Expenses
Lucky is the homeowner whose home is in mint condition and needs no repairs before placing it on the market. The reality is that most homes require some repairs, such as leaky faucets and torn window screens. Factor the cost of needed repairs into your calculation for what it costs to sell the home, as well as any decorator items you'll need to purchase to stage the home. Thankfully, some of what you spend can be recaptured when you sell the home. A fresh coat of interior paint, for instance, may net you a strong return on investment at the close of escrow.
Listing Costs
If you plan to sell the home without the aid of a real estate agent, listing costs are minimal. Even if you use an agent, these expenses vary depending on whether the home is occupied or vacant. An unoccupied home requires utilities for showings and for inspections, so you must keep the gas, electricity and water in service during the listing period. If you've already moved, plan on paying these expenses for both homes. Check with your homeowner's insurance agent to determine if you need more liability coverage while the home is vacant and on the market.
For-Sale-By-Owner Expenses
Eschewing the services of a real estate agent when you sell your home saves you money, but there are still marketing expenses. Luxury homeowners spend far more money on marketing than owners of less-expensive homes, but professional photography – which you need if you hope to compete with agent-listed homes – can be pricey for anyone. You also need to consider legal fees, and the cost of yard or window signs, contracts and other paperwork, FSBO website fees and maintaining a vacant home if you've moved.
Closing Costs
Closing costs aren't just for homebuyers, sellers get dinged with them too. The best part of closing costs is that they are deducted from your proceeds so cash-poor homeowners don't have to worry about digging into their savings. Closing costs vary depending on region, lenders and your individual negotiations. Some of the fees you may have to pay include your loan balance, the real estate agent's commission, attorney's fees, transfer taxes, title insurance, escrow, taxes and notary fees. If you agree to pay the buyer's closing costs or make needed repairs, factor those costs into the equation as well. Finally, depending on how much you earn and how much you net from the sale of the home, you may owe capital gains taxes. These taxes are not collected at closing, but are levied in the year following the sale so consult your accountant if you think you may be subject to them.