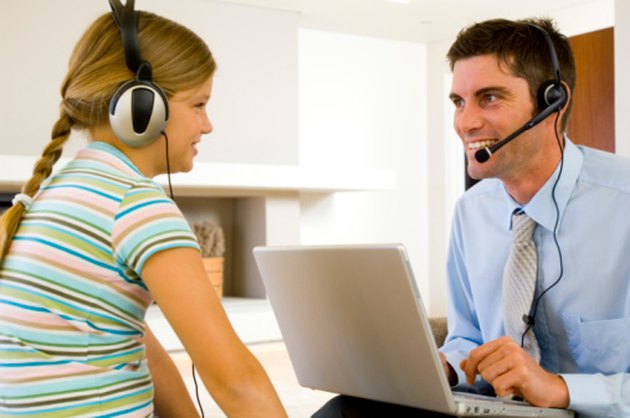 Eager learners are increasingly accepting the idea of virtual online schooling. According to the National Center for Education Statistics, a unit of the U.S. Department of Education, 37 percent of public primary and secondary school districts had students that were using online learning platforms in the 2004-2005 school year. The NCES also reported that 66 percent of colleges offered distance learning courses in the 2006-2007 school term. Online schools are available for just about anyone, but the hardest part is knowing where and how to start the process.
Elementary Through High School
Step 1
Meet with a guidance counselor at the local elementary, middle or high school -- or the governing school district -- to learn about approved and accredited online schools. Mention the term "home school" to the counselor if a parent will be heavily involved in the teaching and learning process because some districts have specific rules regarding this type of schooling. Obtain an audit or transcript of classes that are already completed, if any. Clarify what classes the student needs to satisfy grade-level advancement or graduation requirements. Submit preliminary applications and registration information after a decision is made on a school that best meets the student's needs. Know the deadlines and schedule.
Step 2
Inquire about out-of-pocket financial costs, if any, that are required for online classes. Visit the website or call the online school for price quotes. Local, in-state "public" school residents generally do not pay for online classes. However, if the headquarters for the online classes is in a different state, then the student (or parent) might have to pay out-of-state fees.
Step 3
Enroll in the online courses every school year. Follow the course sequence laid out by the online school, but also stay on track or progress ahead of students who attend classes in person. Complete the assignments and exams and participate in online discussions. Store and keep a personal record of completed work on the computer's hard drive. Track earned grades from term to term, making sure the online school has officially documented that the student participated in and passed the class.
Step 4
Take statewide and national assessments that are required for graduation. Consult with the online school regarding graduation procedures. In many cases, the online school reports student's grades to the local school district. The district awards the official high school diploma. Students and parents can participate in local graduation ceremonies as well.
College
Step 1
Research which colleges offer your chosen major online. Some schools offer the complete program online, which includes the degree. Other schools use a hybrid approach, offering online and in-person classes that satisfy degree requirements. Some schools only offer a few classes online, but students must attend the bulk of the classes in person. Be sure the structure of the course and degree program fits around personal and professional needs. Fill out application to gain entrance to the college before the deadline.
Step 2
Assess your ability to pay for college out of pocket or from savings or scholarships. If interested in federal loans and grants, fill out the Free Application for Federal Student Aid (FAFSA) while also applying for entrance into a college. Fill out and submit any institutional financial aid applications that are required by the college. Periodically, call the financial aid department or access the secured online student account to check the status of financial aid approvals. Reapply for financial every school year and have awareness of application deadlines.
Step 3
Enroll in classes ahead of time every semester. Periodically check for completed classes against your school transcript. Meet with the dean of the college at least once every term to check on personal progress. Log into the online classes and follow the instructions on the syllabus to fulfill the requirements by the professor. Tests and final exams are usually provided online, but be prepared to have to travel to local testing center to take tests with pencil and paper.
Step 4
Meet regularly with the dean or administrators of the college, over the telephone, via email or travel to the school in person. Verify that all required courses and procedures are on the right track for graduation. Some colleges allow online degree recipients to travel to the campus and walk with the rest of the graduating class.
Tip
Primary, secondary and post-secondary students usually need a personal computer at home. Textbooks and instructional material is delivered online, but the school might also ship textbooks to the home. Subscribe to always-on, high-speed Internet service, such as DSL or cable, for trouble-free access to online courses. Obtain and install a productivity suite, such as Microsoft Office or OpenOffice.org, that includes a word processor, spreadsheet and presentation applications. Be prepared to buy extra technology, software and hardware that is specific to a course. For example, taking calculus online might require the use of a handheld graphing calculator. Obtain a multifunctional printer (copy, scan and fax) for paper-based documents (applications, math exams, unofficial grades and transcript printouts).
Many households have more than one computer. Consider developing contingency plans, such as using a neighbor's computer or going to the public library, if only one computer is available in the home.
Online classes have limited "seating" similar to local classes. Check the available classes months before the start of the term to make sure they are not full.
Schedule, on your own time, to take standardized high school tests (SAT and ACT) and graduate school entrance exams (GMAT and GRE). These tests are generally not required for graduation from a high school or college, but they are helpful and/or necessary for advancing the to the next level of education.
The terms "online school" and "distance learning" are generally synonymous.
Warning
Make sure your chosen online school is accredited by state, regional and/or national organizations -- which themselves must have official authority to accredit distance learning schools. For example, many fly-by-night for-profit online schools will throw out the word "accredited," but the body itself ("Bogus School Accreditation Board") doesn't have the authority from the U.S. Department of Education approve schools, in any regard.
Check with the online school at the beginning of each term to verify that all necessary costs have been satisfied to avoid last minute financial aid surprises that might require dropping the courses.
Application fees are generally not refunded, so make sure you are fairly certain that you might attend the school.