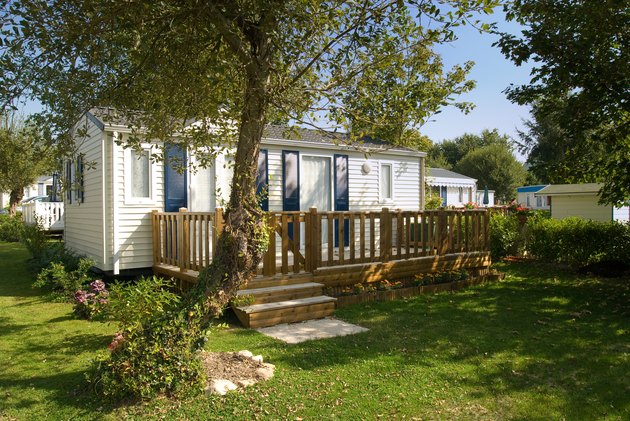 Tip
Some lenders have placed a cap on the amount of money you can borrow on a mobile home. If you live in an area where home prices are skyrocketing, you will need to make up the difference between the sale price of the home and the amount of your loan.
Warning
Don't rush into purchasing a mobile home. Shop around for the best value and quality of home.
If finding affordable housing is your goal, you may be interested in purchasing a mobile or manufactured home. Mobile home manufacturers have recently gone to great lengths to make them seem more like traditional, site-built houses. While a mobile home may look like a traditional house, it may not finance like one. Financing mobile homes is becoming increasingly difficult because lenders usually prefer to service traditional housing loans. You can significantly improve your chances for approval if you know the ins and outs of mobile home financing.
Step 1
Improve your credit. Any time you apply for a loan, you need to check your credit report for errors. Also check to rectify any delinquent accounts. Lenders will use your credit report as an initial determining factor to pre-approve you for financing. A credit report that reveals previous mortgage issues, credit failures or foreclosures will severely affect your chances for being approved for a mobile home loan.
Step 2
Keep track of your credit as it improves. Many lenders will give you a credit score goal to work toward in order to qualify for financing. This ideal credit score may be much higher than the credit score needed to finance a site-built home due to the risks involved for the lender. In order to qualify for mobile home financing, you'll need to prove to a lender that you are responsible with credit. The foreclosure rates on manufactured homes are typically much higher than those on traditional houses. Lenders see mobile homes as a risk because they're easy to walk away from. Unlike a site-built home which appreciates in value, mobile homes depreciate in value every year much like the value of a car.
Step 3
Save up a sizable down payment. Even if you have perfect credit, many manufactured housing lenders will require a minimum down payment of at least 5 percent of the home's sale price. A low credit score means that you'll have to place a larger down payment on the home in order to secure financing. Lenders want it to be difficult for you to default on a loan. You are less likely to walk away from something after you've invested a lot of money in it. Depending on your credit score, you need to be prepared to save between 5 and 25 percent of the home's sale price for your down payment.
Step 4
Shop for lenders who specialize in mobile home financing. Your typical mortgage company may not consider a manufactured home, but there are many lenders who make mobile home financing their specialty. These lenders have special programs in place to help you qualify for a mobile home loan. A lender can analyze your credit, and the company will then determine which programs will meet your needs.
Step 5
Beware of creative financing. Creative financing is just a pleasant term for mortgage fraud, and it is rampant in areas of the country where manufactured housing rules supreme. If a lender asks you to falsify your income statements or bank statements, don't do it! When you sign your name to false information when dealing with a lender, you are committing mortgage fraud. You can incur massive fines, and you may even be sentenced to as much as ten years in prison for your involvement in the crime. Be honest when you disclose any information about yourself to lenders.
Step 6
Purchase a new mobile home from a manufactured housing dealer. You'll have better luck with obtaining loan approval if you purchase a new home. Manufactured home dealers work one-on-one with lenders who specialize in mobile home financing, and your credit doesn't have to be perfect to be approved. You can choose the exact floor plan you want, and you can even customize the color scheme in your new manufactured home!