A trip to the spa can be money well-spent. There's nothing like investing in a little self-care. But when you want to treat yourself without putting a dent in your wallet, you can skip the spa and create your own little oasis at home.
Here's an easy step-by-step guide to creating a home spa, without breaking the bank!
Step One: Hydrate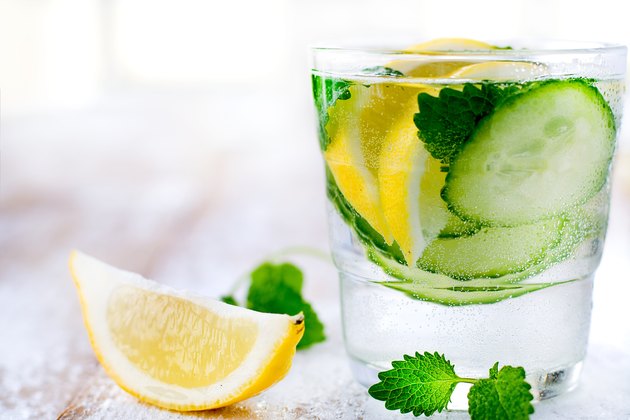 A day at the spa means taking care of yourself inside and out. Most spas offer delicious flavored waters to keep you hydrated, and you can easily recreate the experience. Start your day by making yourself a large pitcher of cucumber lemon water. Just a few slices of each should do the trick. Be sure to de-seed the lemon!
Pour yourself a glass and keep refrigerated for a cool refreshing treat that will last the whole day.
Step Two: Turn your bathroom is a steam room
Turn on the hot water in your shower and let it run for about 5 minutes with the drain plugged. You can keep the water running a bit longer if you want more heat. The steam will hydrate your skin and open your pores. Bring in some fresh eucalyptus to add a refreshing scent.
Step Three: Exfoliate your skin with a natural scrub
Spas offer exfoliating treatments with luxurious scrubs. But you can make your own with natural products at a very low cost. We love these sugar and salt-based recipes from Treehugger. Browse and try your own or follow the simple recipes below.
For your face, try a combination of 1/2 cup of coconut oil, ¼ cup of salt, ¼ cup of pink himalayan salt, and the juice of one lemon. The coconut will make your skin smooth and glowing while the natural astringent of the lemon will get out impurities.
For your body, try a combination of 1/2 cup of coconut oil, ½ cup of coarse brown sugar, a few drops of clove essential oil. The clove oil has a lovely scent and will warm and soothe your muscles as you scrub away excess dry skin.
Save the rest of your scrubs in mason jars or plasticware for your next spa day!
Step Four: Cleanse and rejuvenate your face
If you want to deep treat your skin, try a cleansing mask like Queen Helene Mint Julep. It's made with natural ingredients, has a refreshing scent and will leave your pores feeling cleaner and tighter, and at only $4.99 a bottle, it's a great bargain.
If you prefer to create your own mask, you may have exactly what you need in your kitchen cabinet. We love this de-puffing mocha mask. All you'll need are 2 tablespoons freshly ground coffee, 2 tablespoons pure cocoa powder, 1 tablespoon honey, and 3 tablespoons yogurt or sour cream. Combine the ingredients and spread the mask over your face evenly for a luxurious treat.
Step Five: Moisturize and massage
If you still have dry spots, use your favorite lotions to nurture your skin. Give yourself a gentle massage as you go, taking time to focus on any areas of tension. If you've invited friends over for a spa day, trade back rubs.
If you're solo, giving yourself a foot massage is an easy and effective way to relax your entire body. Use a golf or tennis ball to roll out any tension. Then, apply a rich cream and focus on your pressure points. You don't have to be a reflexology expert to give yourself some sweet relief. Simply locate the areas of your body where you'd like to relieve tension and find them on a reflexology chart. You can also intuitively apply pressure to the areas of the foot where you feel tightest. Your body will feel looser and reenergized.
If you'd rather steer clear of your feet, treat yourself to a Kikkerland head scratcher. They usually retail for around $4.00 and they'll create a tingly relaxing sensation throughout your body that's out of this world. Kikkerland also sells high-quality back scratchers at just $6 a piece!
Step Six: Settle back and relax
Once you've pampered yourself, treat yourself to soothing music, soft pillows and a relaxing activity. You can cozy up to a good book, snack on fresh fruit, or sit back and relax with a couple of cucumber slices cooling your eyes.
For an extra treat, indulge in fresh rosewater. It makes a wonderful misting spray for your face and body and the scent is glorious. You can prepare this yourself from fresh rose petals and the leftover flowers will make a beautiful centerpiece. Store the rosewater in your fridge and it will last for up to a week, or with a touch of vodka, even longer.
Everyone needs a relaxing getaway from time to time. Your home spa day can be a special treat that you indulge in with friends, a partner, or a special self-care ritual just for you. Whatever you choose, plan out your day in advance so you'll be undisturbed by other obligations. Be sure to make a list of ingredients and a supply shopping a day or two ahead of time so you can have everything you need to unwind and relax.