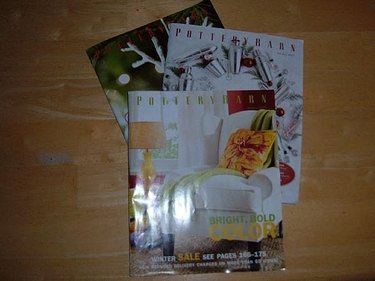 Pottery Barn is a popular store that features furniture, tableware and decorative accessories. The company is famous for their beautifully photographed catalogs, which are mailed out to their customers on a monthly basis. With more than 200 stores located in the United States and Canada, Pottery Barn is one of America's most popular home furnishing brands. Still, shopping at Pottery Barn doesn't come cheap. If you love Pottery Barn and are looking to save some money, read on for some tips on how to get the deals you want.
Step 1
Get a Pottery Barn credit card. Pottery Barn rarely offers coupons or online coupon codes, but they do offer special incentives for their cardholders. If you're approved for a Pottery Barn credit card you can earn merchandise credit and promotional coupons. First-time credit card users get a 5 percent rebate off of their first purchase, which can add up to big savings. After that, Pottery Barn issues semi-annual reward points and certificates. Several times a year they mail money saving coupons exclusively to cardholders.
Step 2
Check for sales regularly. Many people are familiar with the Pottery Barn catalog; but the website and retail stores sometimes have merchandise that is not always available online. Often, there is a different selection of sale and clearance merchandise, too. Pottery Barn has semi-annual clearance sales during which you can get up to 75 percent off the regular price on select merchandise. To find clearance items online, go to the Pottery Barn website and click on the "Sale" link, then click on "Clearance." All of the clearance items will show up. Some of them marked down as much as 75 percent. Keep in mind, however, that if you've had your eye on an item for a long time, there is no guarantee that it will ever go on clearance, and the item may sell out if you wait too long to buy it. Still, it pays to wait for items to go on sale at Pottery Barn.
Step 3
If you're getting married, having a housewarming party or planning any other type of big celebration, sign up for a Pottery Barn wedding and gift registry. You can register for all of the items you want and gift givers can purchase them for you at a Pottery Barn store or on the website. After your celebration, you will then be able to purchase any remaining items on your registry at a 10 percent discount through Pottery Barn's Completion Program. The Completion Program allows for a one-time purchase at the 10 percent discount. You can sign up for the wedding and gift Registry online or in person at a store.
Step 4
Spend over $3,000. When you look online or at a Pottery Barn catalog, you may see a number in parentheses after the price of a furniture item. This number is a surcharge that is often applied to large items at Pottery Barn. You can often save on the surcharges by buying more than one item in a furniture line. Look for the surcharge discounts on the Pottery Barn website and catalog. Pottery Barn's shipping and delivery charges can be somewhat expensive, especially on items with surcharges. If you spend $3,000, however, the delivery charges are only 5 percent of your total order. On furniture orders that are less than $3,000, the delivery and processing charges are 10 percent of your total order.
Step 5
Shop at a Pottery Barn outlet store. Most items that are returned get shipped directly to the outlet stores; furniture returns are no exception. In fact, some of the best deals at the Pottery Barn outlets are on furniture. Most items in the outlet are 40 percent off the retail price. There are currently nine PB outlet stores in the United States.
Things You'll Need
Pottery Barn catalog

Pottery Barn credit card

Computer with Internet access (for online ordering)

Telephone (for catalog ordering)

Transportation