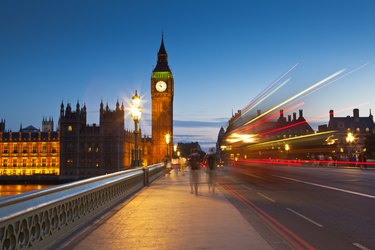 The U.K. government issues bonds that it calls "gilts." You can buy gilts through a broker or, with approval, directly from the U.K. Debt Management Office (DMO). Anyone with a brokerage account can buy gilts in the secondary market, but only members of the DMO Approved Group of Investors can buy gilts from the U.K. government.
Direct Purchases
U.K. citizens and foreigners in certain designated countries can apply for DMO approval by filling out a free application form available from Computershare, DMO's designated investor services provider. The form requires information about your identity, income and wealth. Once approved, you can buy newly issued gilts by filling out the government's Gilt Stock Dealing Form and sending it in with a check from a U.K-based bank. The DMO will sell you the gilts once the check clears and mail the gilt certificates to you. You can't specify a price or maximum price for a DMO purchase -- only the amount you wish to invest.
Brokerage Purchases
You can buy gilts through a broker that is registered with the London Stock Exchange and specify the amount and price you want to pay. After executing the purchase, the broker sends you a contract note summarizing the transaction and the commission. The broker works with a group of firms known as Gilt-Edged Market Makers (GEMMs) to execute gilt trades. Unless you request certificates, a GEMM holds your gilts electronically on the CREST Settlement System, a unit of Euroclear Bank.