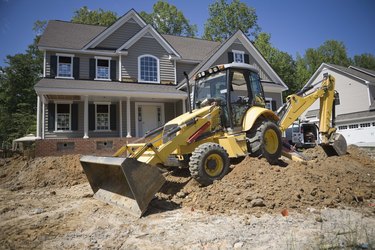 The American Institute of CPAs strongly recommends that you insure a home under construction. According to the institute, you can use either a standard homeowners policy or a "dwelling fire" policy. You buy a policy from a property and casualty insurance broker and pay periodic premiums.
Homeowners Policy
A standard homeowners policy protects a home during and after construction. In addition to coverage against damage, many of the policies also insure against theft of building materials. Another important feature is liability protection, which can come in handy if someone gets hurt on the construction site and sues you. A drawback of this policy is that it won't cover loss or damage to your personal property until the home is secure from unwanted entry, at which point you can add personal property coverage to the policy.
Dwelling Fire Policy
For a home under construction, you can save money by buying a dwelling fire (DF) policy instead of a homeowner's policy. However, you won't receive coverage against theft of building materials or against hazards not listed in the policy. Some DF policies also provide liability coverage. The CPA Institute notes that a DF policy might be appropriate for construction on or additions to a home you already occupy because your existing homeowners policy will cover items stolen from the construction site. The institute recommends you replace a DF policy with a homeowners policy once you complete the construction phase.