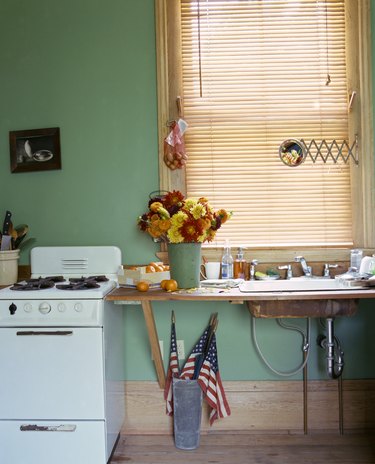 For most, stocking a first kitchen seems like a daunting prospect, but it doesn't have to be that way. Here are a few tips on how to stock your first kitchen without spending all the money in your tired little savings account.
Take what you can get
First and foremost, ask your parents or family members what they're willing to part with. As people get older, they relegate entire kitchens' worth of items to the basement. While some of it might not be your exact style (china with little cherubs on it were huge in the '80s), some if it will probably be their own starter kitchenware. This is a great way to get your hands on some plates, bowls, glasses, and silverware. Bonus points if things kind of match!
Mind the gaps
Once you've done the initial sweep of what's available to you, get together with your roommates and take inventory of what you have. Chances are, if you're living with even just one other person, you'll have a lot of overlap, but also possibly have some gaps. Make a shared spreadsheet to enter in quantities of items before move-in day so you know what you're looking for on that trip to Crate and Barrel (optimistic, yes) or Target (real talk).
Enjoy the hunt
TJ. Maxx, Amazon, and Home Goods are about to be your new best friends. Lodge Cast iron skillets can be $70 at Williams-Sonoma, and $15 at TJ. Maxx, if you do some digging. Do some research and find the Dutch oven that's a good enough dupe for a Le Creuset. The sale racks at places like Sur La Table can be goldmines, especially around the holidays and at the end of seasons (at this stage of your life, it isn't seasonal cookware. It's sale cookware. Enough said).
Be realistic
Another point: Don't try to have a fully stocked, perfect kitchen in a day. Get the basics down, and then acquire things over time as you find them and can afford them. Rome wasn't built in a day, and neither will your kitchen be.