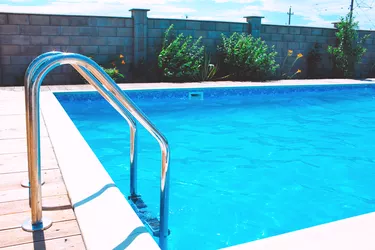 A swimming pool can contribute significantly to a backyard oasis. Some people would argue that anytime is a good time for a swimming pool, but when is the best time of year to start pool construction? Sometimes the time of year can influence the cost of a pool installation. And once you've invested in your new pool, will it affect your home's value?
When starting your pool project, it's important to choose the right season. You can save money depending on if you have a winter installation or are one of many opting for spring pool installations.
Many people start pool construction in the spring. This gives the pool company a tight time frame to complete the project by swimming season. So half the summer may have lapsed before you can jump off that diving board.
Also, a permit must be pulled as part of the pool building process. Spring is often the busiest time for the building department. Besides swimming pools, new buildings are also being permitted. You may have to wait in line, which could push your pool build back to summer. And because there's a demand for swimming pools in the spring, you're going to be paying a premium.
Lower Prices in Fall/Winter
A pool company can often offer lower prices in the fall or winter. It's a more relaxed time to build. You don't have to worry about a rush job.
And permits are easier to pull. There's also no spring competition for buying supplies and equipment. Because there's no competition, you can often pay less. This makes the construction process go smoother.
If you're installing landscaping too, it gives your new plants time to take root.
You have the choice for your dream pool. You can either go with an above-ground pool or an inground pool. The pool design you choose is dependent on preference and budget.
Work with your pool company to determine construction materials. Gunite and fiberglass are the popular choices. A gunite pool is a mixture of cement and sand. They are very popular, but expensive to install and high maintenance. On the other hand, a fiberglass pool is low maintenance and can be quickly installed. It is also less expensive.
A lot of pricing for a swimming pool installation depends on the region and pool type. But here is an idea of what it would generally cost:
​Inground gunite pool​: $35,000
$65,000
​Inground fiberglass pool​: $20,000 - $60,000
​Above ground pool​: $800 - $15,000
A pool company can often offer lower prices in the fall or winter.
There are many ways to accentuate your swimming pool. Waterfalls give a pool an elegant and whimsical touch. If you have children and your pool is deep enough, a diving board is a great addition. And what goes better with a pool than a spa? It helps to prolong your pool season when the weather turns cooler.
If you're in the north, a pool cover is important for those winter months.
Homeowners often want to go beyond a pool for outdoor living. So take your space to the next level and add an outdoor kitchen to go along with those pool parties.
Swimming Pool and Home Value
Some homeowners think they'll ultimately save money building a pool because their property value will increase. But that issue is debatable. Although swimming pools are desired in warmer areas, like the south and southwest, they may deter new home buyers in the north.
If your neighbors have swimming pools, it's a downside if your property doesn't have one.
But generally speaking, a swimming pool could raise your home's value up to 7 percent. Although that seems great, you must consider the cost of the build, maintenance and increased insurance rates over the years you own it.