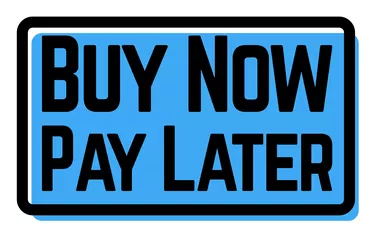 Often advertising perks like no late fees or credit check, buy now, pay later (BNPL) plans have become popular for Americans during the pandemic as an alternative to a credit card or personal loan. But while these BNPL plans can be convenient and accepted by many popular retailers such as Walmart, you'll need to consider interest charges and potential risks to your finances. Understanding how the payment plans work can help you make informed decisions on when to use these trending plans.
How Does Buy Now, Pay Later Work?
While there are several popular BNPL providers such as Klarna, Affirm, PayPal and Afterpay, they mostly work similarly and require a minimum purchase amount. Usually, you'll see the payment option displayed at the checkout when you shop online or even have the option for in-store purchases. It serves as a more convenient alternative to layaway for holiday shopping and year-round purchases.
If interested, you provide some personal information to usually have a soft credit check done. You can get approved for multiple payment plan options and see the exact installment payment amount upfront. If approved, you might pay a percentage of the total upfront and then pay the remainder in installments usually occurring biweekly or monthly. Plan terms usually range from a few months to a year.
BNPL providers make money through associated retailer fees along with borrower charges. Some providers offer short interest-free plans or don't charge interest for any plan. On the other hand, others add interest to your payments, but the interest usually doesn't compound. However, BNPL providers besides AfterPay often charge no fees for late payments.
If you opt for a provider that doesn't charge interest for the chosen plan, you could avoid added costs using BNPL services and actually save money versus using a credit card. However, be warned the cost could otherwise be steep. Depending on your credit report and score, you can end up paying interest rates of up to ​30 percent​ – this is higher than the average credit card would charge you.
Further, if you use one of the pay later programs that don't waive late fees, you can face more costs if you can't keep up your biweekly or monthly payments. Facing both late fees and interest charges can particularly become costly if you get over your head in debt and become late on multiple plans.
What Are Other Personal Finance Risks?
Along with potentially costing you money now, using pay later services could make it harder to get future credit from lenders or get good interest rates. While it's true that the initial credit check often doesn't affect your credit score, Klarna notes the types of credit checks used can depend on the financing you seek. So, if the lender does a hard pull, this negatively affects the credit inquiry portion of your credit score.
In addition, whether your payments get reported to the credit bureaus depends on the BNPL provider and can have various consequences. Affirm, for example, only reports payment plans that aren't interest-free, while Klarna only reports delinquent payments. This means that on-time payments may not help your credit score and that missed payments – even without late fees – could still hurt your score.
The Consumer Financial Protection Bureau warns of the risk that pay later providers present to consumers who may feel tempted to overspend due to the easy application process and attractive payment agreements. It also recently has decided to inquire about the practices of these providers and their risks to consumers. So, be aware that becoming overextended can both make it harder to pay all your bills as well as damage your credit with missed payments.
Using These Payment Plans Wisely
If you're interested in trying this point-of-sale financing option, use these tips to reduce the chance of harming your personal finances:
Opt for interest-free plans when possible.
Set up auto-payments from your bank account to avoid a missed BNPL installment.
Carefully read the repayment terms before accepting any plan.
Identify the provider's credit check and reporting processes to protect your score.
Watch your budget and assess your needs to avoid overspending with these plans.