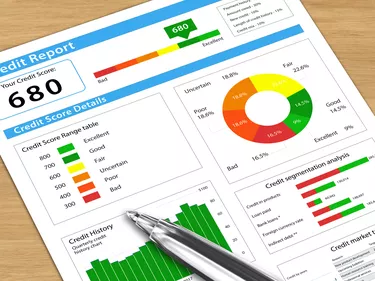 When shopping online, you find your item, put it in your cart and then head for the checkout. But at this point of sale, you'll often have the opportunity to pay now or pay later. You might be tempted to pay later if it's a big-ticket item.
Online isn't the only place you find the buy now, pay later (BNPL) option. Whether you're purchasing a couch or buying braces for your child, the option to pay later is often available. But what are the ramifications of using this service on your credit score? And if you miss a payment, does it end up on your credit report?
The providers of the BNPL option have partnerships with retailers to offer installment loans on large purchases. These are short-term loans that usually require repayment within a month. Some BNPL providers are PayPal, Affirm, Klarna and AfterPay. There are other BNPL providers as well.
Buy now, pay later services became increasingly popular during the pandemic. Funds were short, and the ability to stretch out repayment on large purchases was attractive. Whether the consumer had bad credit or good credit, they were usually approved for these short-term loans, which are different from credit cards. With a credit card like VISA® or Mastercard®, you are given a line of credit, and then pay interest on the credit you use.
Free Credit a Possibility
Even if you have good credit, you'll likely have a high interest rate when making credit card payments on your purchases. And if you have a history of bad credit, you may face even higher interest rates. However, many buy now, pay later lenders provide interest-free payments.
The caveat is you must make all your installments on time and pay in full. Some providers have late fees if you miss a payment or are late. Others will tack on interest for the entire purchase price if you don't make payments on time or default.
But if you want to make a large purchase, are short on cash and you're good at debt management, BNPL is usually a great way to have free credit.
Your payment history with other lenders shouldn't come into play when it comes to getting a BNPL loan. Most BNPL providers don't do a hard inquiry credit check. So, whether you have good credit or bad credit, you're usually given the short-term loan.
One exception to this is PayPal Pay in 4, which lets you make four installment payments for large purchases without interest. But they are backed by Synchrony Bank, so they perform a hard inquiry. Your bad credit will hurt you. You may not be declined for bad credit, but it may be a problem on your credit report if you default.
BNPL Reported to Credit Bureaus
Many people who are thin on credit or have bad credit use BNPL providers to establish credit or improve their FICO credit scores. They're particularly popular among Gen X and millennials. But does it get reported to the major credit bureaus?
The jury is still out whether BNPL will help build credit. Timely payments may not appear on your credit report or raise your FICO score.
Most BNPL providers don't currently report timely payments to the major credit bureaus because it would be difficult for these bureaus to record them. Equifax®, Experian® and Transunion® are presently set up only for revolving credit, which is credit automatically renewed as debt is paid off. However, in 2022, all three credit bureaus announced plans to accept BNPL payment data in the future.
Also keep in mind that if you default on BNPL loans, they may appear on your credit report and hurt your credit. They may be turned over to collections, and at that point, the default will be reported to the major credit bureaus. As it stands now, buy now, pay later payments may not help your credit score, but may hurt it.
In January 2022, the Consumer Financial Protection Bureau (CFPB) opened an inquiry on buy now, pay later plans The concern is the possibility of the consumer accumulating debt. Although the CFPB points out that many people like it as a new payment method, the argument is that it's just another form of debt for those who can't afford it.
It's possible that when purchasing online, the decision to use a BNPL option may be rushed and not well researched. This could cause problems for the consumer down the road and ultimately affect their annual credit report.