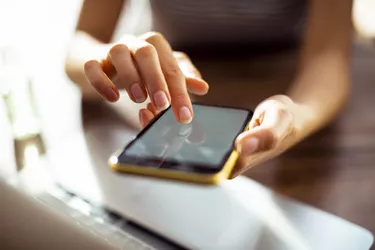 If you want to invest in a variety of securities, Robin Hood stands out as one of the most popular money apps that offers flexibility with investment amounts and doesn't charge you commissions. Along with investing in traditional securities like stocks and exchange-traded funds (ETFs), Robin Hood lets you invest in riskier choices like options and cryptocurrency as well as safely keep cash in an interest-bearing account. While this app can appeal to new and experienced investors alike, it has had some controversies over the last few years. Here's what you should know about using the Robin Hood app.
The main feature of Robin Hood is the ability to take as little as a dollar and add various types of investments to your portfolio without having to worry about the commissions common with other platforms. To offer the commission savings to you, Robin Hood uses strategies such as working with market makers to get rebates, making stock loans, offering a premium subscription and receiving income from the cash management feature.
You can use the app to buy and sell U.S. ETFs, stocks, options contracts, American depository receipts (ADRs) and cryptocurrencies. On the other hand, the app doesn't offer bonds, mutual funds, preferred stocks and several other types of investments. While you don't have to pay commissions on the trades you make, keep in mind that Robin Hood does mention you may still pay other fees.
The Robin Hood app also offers investor education and a cash account with a debit card. When you're using the app, you'll see various trading tools that provide news, analyst opinions and explanations of different investments, and you'll also get a broad understanding of the financial market. You can instantly transfer cash from a bank account to your Robin Hood account – or set up direct deposit for a paycheck – and use the money to earn interest in a cash management account or to purchase investments easily.
How Do You Use Robin Hood?
To get started using this money app, you can simply download and install the iOS or Android Robin Hood apps. You can go through the application process once the app opens on your device, or you can begin the process on the Robin Hood website instead and log in to the app later.
You'll enter your personal information, link a bank account to transfer money and verify your identity with a document like your driver's license. Once the approval process completes and you have funds ready to invest, Robin Hood rewards you with a free first stock, and you can start browsing the app to research, purchase and sell investments. You'll be able to track your portfolio's performance in the app as well.
To get some additional features and benefits, you can pay $5 monthly for the Robin Hood Gold upgrade for your account. This provides you with more investment information through professional research and access to market data as well as the ability to make higher instant transfers. Robin Hood Gold also opens up the door for margin trading if your account qualifies with $2,000 or more in value.
What Are Robin Hood's Risks?
If you're wondering whether the Robin Hood app is safe to use, there are some safeguards in place to protect your money and information. First, Robin Hood uses security measures such as encryption and multi-factor authentication to protect access to your account and private information. Second, coverage by the Securities Investor Protection Corporation (SIPC) helps ensure you don't lose your cash and most types of securities (excluding cryptocurrencies) if the brokerage were to fail; the SIPC coverage is $250,000 for cash and $500,000 total for your account.
However, investors should be aware that important agencies like the Securities and Exchange Commission (SEC) and Financial Industry Regulatory Authority (FINRA) regulate Robin Hood and have fined the brokerage for some of its practices. Over the last few years, Robin Hood has come under controversy for such practices as misleading investors about different types of securities and the associated costs, experiencing extended outages and using marketing strategies encouraging less experienced investors to make potentially risky moves.
Therefore, you'll want to do independent research on what you're investing in and weigh the pros and cons of your decisions when you're using Robin Hood or similar trading apps. You'll also want to keep in mind that no gains are guaranteed and that you can lose money, especially when you opt for riskier investment choices.