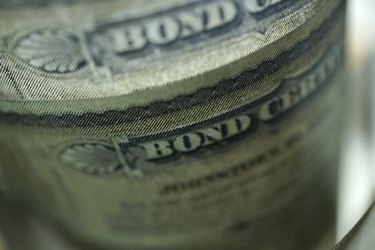 As popular fixed-income investments, bonds usually provide better stability than the stock market, offer regular interest payments and serve as a good tool for diversification. If you're ready to use bonds as part of your investment strategy, you have a few different ways to start buying them, and the processes vary for the types of bonds available. For example, you can get wide access to bonds through a brokerage, while the federal government offers its bonds directly. In any case, you'll want to do some research before you make your purchase.
Understand Some Important Bond Basics
A bond issuer, or borrower, is often a corporation or government that needs to raise money. As a bondholder, you lend the bond's face value to the issuer for a specific time period; this amount may differ from what you actually pay for the bond, however, since you may buy at a discount or premium. In return, you receive periodic interest payments – called the coupon – until the bond's maturity date arrives. When that happens, the bond issuer pays you back the face value.
Some common bond options include federal government, corporate and municipal bonds (munis). The sale of initial bond issues occurs on the primary market, while the secondary market is where you'll find bonds available from other investors. While you can buy bonds individually, you have options to invest in pooled baskets of bonds through exchange-traded funds (bond ETFs) or bond mutual funds too.
You should also understand some important considerations regarding risk and return. Stocks usually offer higher yields than bonds, although you can find high-yield bonds that have a higher risk. Many bonds have a fixed return where you won't benefit if market rates rise, but this does mean predictability. Also, you have to pay attention to bond ratings to get an idea of the credit risk of the issuer and minimize the default risk associated with investing.
Buy Bonds Through U.S. Government
If you want to purchase federal government bonds, you can get them electronically through the TreasuryDirect website. You'll need to first set up an account there and link to a bank account.
You can then log in and purchase savings bonds outright in various denominations up to an annual limit and even set up recurring purchases if you'd like. In addition, you can check when auctions are held and place bids for Treasury bonds when issues are available. These auctions may be noncompetitive where you're guaranteed the Treasury bond with the stated terms, or it may be competitive where you can specify the terms and may or may not end up with the security.
Buy Bonds Through Brokerage Account
If you want to buy U.S. Treasury bonds on the secondary market or purchase corporate or municipal bonds, getting a brokerage account allows you to do this on your own. You can sign up through your preferred bank or opt for a major trade platform, such as Fidelity or E*Trade. Along with providing personal information to open the account, the Financial Industry Regulatory Authority (FINRA) explains you'll usually need to specify whether you'll make purchases with cash or with a margin loan.
After you've got the account ready, you can then search for individual bonds, see bond prices and interest rates, and see order requirements. You can also research bond funds and ETFs. Once you find the bond that interests you, you can agree to pay a commission and place your order. You'll be able to monitor your investments on the platform.
Something to note is that bond investors seeking new issues of municipal or corporate bonds will need to work with a financial institution that's directly handling the offering. So, you'll need to do research to learn about when, how and where the offering will be available. This means it can be harder to add new issues from the primary bond market to your bond portfolio unless you have a connection and plan ahead of time.
If you want to buy U.S. Treasury bonds on the secondary market or purchase corporate or municipal bonds, getting a brokerage account allows you to do this on your own.
Buy Through an Investment Professional
Instead of using a brokerage account entirely on your own online, you could hire a full-service broker or another investment professional who works with bondholders to place their orders for their investment accounts. This can especially be a good option if you're new to investment products and need help determining investment objectives.
If you choose a broker, you'd pay a commission to have them buy bonds upon request. However, a paid investment adviser can offer helpful advice in addition to executing the bond purchases. For example, they may help you address specific needs, such as liquidity and investment portfolio allocation, or concerns, such as interest rate risk and volatility.