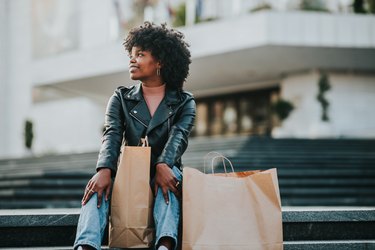 If you're like most people weathering this pandemic, you've gained a new appreciation for sweatpants and staying cozy. You might have even started calling jeans "hard pants," and just as vociferously announced you're never wearing them if you don't have to again. COVID-19 has been a rough year for a lot of reasons, but if you're into fashion at all, perhaps it's been particularly galling.
Still, if you're also inclined to look toward silver linings, the pandemic may also be a time to invest in some deeper thinking about how we dress ourselves. The ​Washington Post​'s Nicole Anzia brought up the matter last month. "We're not only buying more clothes than people did in the past, but we're also only keeping them half as long," she wrote. "On average, people throw away 70 pounds of shoes and clothing (vs. recycling or donating them)."
It's true that the extra size you ordered and sent back probably goes straight to the landfill, rather than to another customer, and that spending too much on clothes has always been one of millennials' top financial regrets. With lots of lifestyle norms ripe for analysis, your lockdown period might be a good time to think more about investing in longer-wearing pieces.
There are some tried and true tricks to stretching out your wardrobe, such as washing on cold for shorter cycles, but one of the best things you can do is buy more durable garments. If you're worried about keeping up your style on a budget, you've got lots of options — and who knows, the process of shopping itself might get more interesting too.