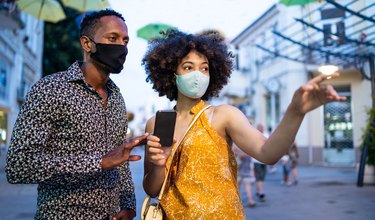 In a world where locking down and staying home is the safest thing to do for many, the travel and hospitality industries have been hit particularly hard. The coronavirus pandemic has changed virtually everything about how we move through our lives, delaying or cancelling big trips and little treats alike. That doesn't mean we're totally helpless, though — or that waiting for a vaccine is the only way through COVID.
Google has just announced several updates to its Travel services, in addition to things like noting travel advisories or lockdown orders in search results for destinations. The company is digging into its massive reserves of searches for the features, such as one that estimates "the percentage of open hotels with availability and flights operating at the city or county level based on Google Flights and Hotels data from the previous week."
The search engine is also adding more services to its results pages that help you save money on bookings. That includes being able to filter hotels and rental properties that allow for free cancellations. Not only that, but Google will pull local data about COVID conditions for your destination, so you can understand what things are like on the ground as you plan your trip.
Some companies are changing up their policies in earnest, and not always for the better: Certain airlines, for instance, have scaled back some of the health and safety precautions implemented on flights for passengers and crew. But putting more information at your fingertips can give you better information about what lies ahead. If that can get your life moving again, these changes might be on the right track.