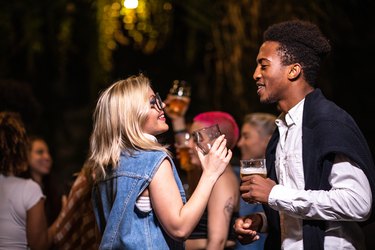 In normal years, spring is a fantastic time for dating. The flowers are in bloom, the weather is finally balmy again, and we're eager to show off our best selves after cocooning all winter. 2020 isn't a normal year, though, even if our urge to meet and mingle is as strong as ever.
Luckily, technology is on our side, now more than ever. If you're getting bored of the same old swipe apps, or if you're having trouble cultivating chemistry with a flat, static profile, there are ways to get some spark back into interacting with strangers. The New York Times tracked down people of all ages who are finding love — or at least first dates — on a set of new video chat-based apps. So far, those who have used them sound optimistic.
If you're into speed dating, or if you just want to skip the pen pal stage of regular online platforms, consider something like Filter Off. You still put together a profile to present your good angles, but the twist is that you connect for 90-second live video chats. If you both like each other after your brief encounter, the app helps you connect longer-term. Best of all, it's free, so you don't have to budget for frustrating subscriptions.
If you're more into the idea of a slower group date, check out Here/Now. This evolved into a video setup from in-person gatherings in New York and Los Angeles. You answer some questions about yourself and upload a photo to the company's website, and matchmakers on the other side will slot you into a likely-seeming group. These aren't the only two options out there, but they could represent the start of a new (and satisfying?) normal.