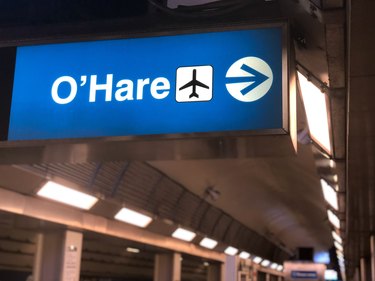 At the start of this year, Illinois became the 11th state in the nation to legalize recreational marijuana. It may be glib to note that this could improve the state's tourism prospects, but authorities at transportation hubs definitely need to ensure everything's in order to handle travelers who are carrying pot. That's where one handy box at the airport comes in.
The Chicago Tribune reports that passengers departing O'Hare and Midway International Airports can make use of so-called cannabis amnesty boxes if they realize they're carrying before going through security. It's the weed equivalent of those barrels for disposing of water bottles or too-big toiletries. Sure, it's no fun — but on the plus side, you won't be committing any accidental federal felonies by crossing state lines with a drug that's still illegal in most of the country.
If you're flying with any CBD products, which don't produce any kind of high, you may still be subject to the TSA agent's discretion about taking it with you. Likewise, TSA agents won't search you for weed, but if they find it, they "are obligated to report any violations of federal law to local police," accordion to a spokeswoman.
For those worried that this could mean losing a substantial investment, the Tribune notes, "Illinois residents can legally possess up to 30 grams of marijuana, or about an ounce, in Illinois, and out-of-state residents can have half that." Similar cannabis amnesty boxes already exist in Las Vegas and in Juneau, Alaska; expect to see more of them if laws begin to shift nationwide.