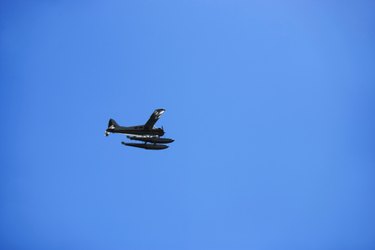 Bush pilots fly their planes in remote areas and in adverse conditions. They serve isolated communities that often have no other means of receiving much-needed supplies. They also can be used in search and rescue operations. Bush pilots are found the world over, and are common in Alaska and Northern Canada. Bush pilots generally do not receive the salaries of airline pilots.
FAA Requirements
The Federal Aviation Administration has a set of prerequisites that must be attained before you can become a bush pilot. You must be at least 18 years old. You must hold at least a Private Pilot License and have a minimum of 250 hours flying time. You must have your log book signed by a certified instructor and you must pass all the Commercial Pilot License tests. Once you have met these criteria then you go to a flight school that specializes in training bush pilots. The whole process can range from $10,000 to $50,000.
Pilot Salaries
The Bureau of Labor Statistics (BLS) does not have a special category for bush pilots. These pilots are lumped into the Commerical Pilot category. The BLS found for May 2008 that the median salary for commercial pilots was $65,340 per year while the median salary for an airline pilot was $111,680. Commercial pilot salaries ranged from less than $32,000 to more than $129,000 per year. Factors that determine salary are years of experience and the size and type of aircraft flown.
Years of Experience
PayScale in its June 2011 survey of 107 commercial pilots found that pilots with less than one year's experience earned between $25,000 to $51,204 per year. Pilots in this sample that had one to four years experience had annual salaries that ranged up to $91,916. Those with 10 to 19 years experience made up to $109,052 while commercial pilots with more than 20 years in the industry had salaries that ranged from $68,188 to $238,946 per year in the PayScale survey.
Cities and States
Salary Expert found in its June 2011 survey of bush pilots that those bush pilots that worked out of Atlanta, Georgia, made an average annual salary of $123,357. Those in the New York City area made an average of $99,613. Bush pilots in Orlando, Florida, with an annual average salary of $45,836, earned the least in this survey. Georgia, with an average salary of $123,357, ranked highest among states for bush pilot salaries in this survey. Colorado at $85,480 and Pennsylvania at $80,919 were second and third. Salary Expert did not provide any statistics for Alaska, however, PayScale's survey showed that the salary range for commercial pilots in Alaska was $39,780 to $61,042.