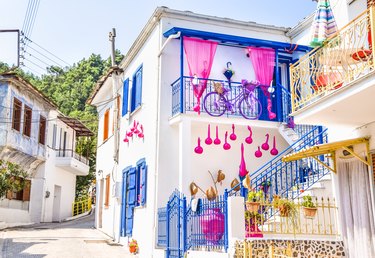 You never quite know everything ahead of time about a new neighborhood, whether you're buying or renting. These days, we like information — after all, data is power, and we'd rather not regret a purchase as big as a living space. Good news: There is, in fact, an app for that.
The website Trulia has just released Trulia Neighborhoods, an iPhone- and Android-friendly app that crowdsources local reviews, original photography, and even drone footage of your future home base. (Right now those last two apply to more than 300 neighborhoods throughout San Francisco, Oakland, San Jose, Austin, and Chicago. The company plans to nearly triple that by the end of the year.) You'll find out more than whether it's a hassle to find street parking, though. Trulia Neighborhoods includes ratings on things like whether local laws enable gender-identity or sexual orientation-based discrimination.
According to Trulia's own research, "85 percent of homebuyers who plan to buy a home within 18 months say that the neighborhood is equally or more important than the house." That jibes with millennials' own assertion that they tend to value experiences as much or more than things. Having come of age with review services like Yelp, we like to make informed decisions. Given how much of our happiness (and our income) we sink into where we live, it makes sense that we'd research the heck out of any place we're considering. If you're considering buying a house, it's worth giving yourself as many tools as you can up front. If you're not already in love with a neighborhood, find out if you could be.