There's nothing like a classic car. Even as cars improve in gas mileage and durability, the sleek design of a 1960 Chevrolet Bel Air will wow everyone on the road. Whether you plan to do the car show rounds or you just want a fun classic car for your lazy Sunday drives, if you need a loan to buy your car, things can get complicated. You may find with your own bank or credit union, you get a hard "no." But that doesn't mean you can't get financing. You just might need to find a lender that specializes in classic car loans to get your "yes."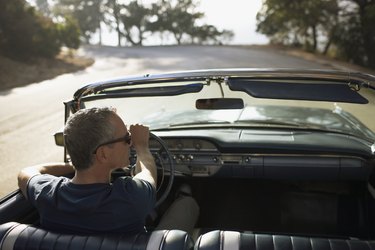 What Are Classic Car Loans?
The big issue with classic car loans and many lenders is that it doesn't check all the standard boxes. You're purchasing a car that is decades old and could have mechanical issues. Even if you've had it checked out and gotten a clean bill of health, lenders may simply have across-the-board policies that keep them from considering your application, even if your credit score is stellar.
But that doesn't take you out of the game altogether. Several lenders, including J.J. Best Banc & Co. and SunTrust Bank's LightStream, offer financing for classic cars. Since these companies specialize in classic cars and hot rods, you'll be able to skip the standard questions you would get from other lenders.
Classic Car Loan Rates
Rates can vary from one lender to the next, but if you opt for a standard lender, you may find you're required to put a down payment of as much as 20 percent to mitigate any risk. Since classic cars are usually more expensive than a brand-new Ford or Hyundai, this means you may have to come up with tens of thousands of dollars. For this reason, it makes sense to seek out a classic car loan specialist.
Although many classic car lenders require information to provide a quote, SunTrust's LightStream advertises rates that start as low as 3.09 percent APR. In order to qualify for SunTrust's special rate, though, you'll need to purchase your classic car through a dealer rather than through a private seller. This rate is also limited to loans between $10,000 and $24,999 with a 24- to 36-month term.
Finding Local Lenders
If you live in one of the many states where car shows are plentiful, you may find a few local lenders that offer competitive rates. In sunny central Florida, for instance, car shows are a regular occurrence, especially with so many retirees in the area. Institutions like Collector Car Lending offer rates as low as 6.25 percent on classic cars manufactured between 1928 and 1998.
Another sunny state, California, is also covered in classic cars. What better way to see Wine Country than through the window of a 1957 Buick? Woodside Credit in Newport Beach offers loans with terms up to 12 years for classic car purchases between $10,000 and $600,000. Woodside also works directly with dealers to help customers get the cars they want.
What You Need to Do to Protect Your Classic Car
Once your new treasure is parked in your driveway, you'll want to take good care of it to protect your investment. In some cases, you may even be able to sell your classic for more than you paid for it if you wait a few years. But you'll need to protect it from the elements, preferably in a fully-enclosed garage. You'll also need to maintain it just as you would any car, keeping fluids changed and performing regular service.
In addition to caring for your car, you should also have insurance in place to protect against theft or damage. Make sure your insurer has policies specific to classic cars. Otherwise, you may find that the coverage isn't sufficient. If you plan to attend car shows with your new purchase, you may also need "no attendance required" special coverage for when it's on display, but you aren't standing by.