Few moments in life are as exciting as getting your driver's license for the first time. For a parent, though, it can be a little scary, especially as you try to navigate the world of car insurance for teens. Fortunately, there are now multiple insurance options for parents of teens, including programs that help young drivers cultivate good driving habits.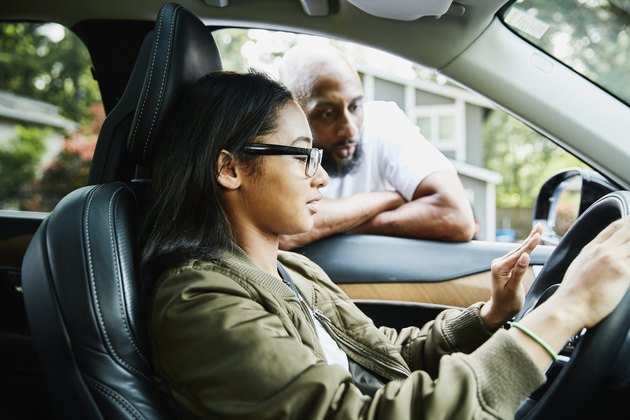 Car Insurance for Teens
There's no point in sugarcoating it. The fact is, you'll pay more for your teen's insurance than your own. Across the country, insurers use age and experience as factors in setting premiums and you can expect to pay between 100 and 200 percent more per teen. This amount can vary dramatically from one insurer to another, though, so it's important to price around. Both Geico and State Farm are competitive in the rates they offer teens, with Allstate and Farmers being on the high end.
Can a Vehicle Be Titled in the Name of a Minor?
The big issue with a teen owning a car is that, in most states, minors are not legally allowed to enter into a contract. If a contract is signed, the minor could later state that he lacked the capacity necessary to sign it, at which point it may be voided by the courts. Even in states like North Carolina, where there is no law on the books regarding minimum age to be on a car title, you may not be able to get a plate issued without proof of insurance, which usually requires a parent's signature.
How Much Does Your Insurance Go Up When You Add a Teenage Driver?
The exact amount you pay can vary by state and insurer, so you'll likely need to shop around. One Insurance.com study showed that California residents pay an average of $2,712 per year for a female teen. For male adolescents, that number skyrockets to $4,172. Comparing across 10 different ZIP codes, the study found that the average household's insurance bill rose 152 percent by adding a 16-year-old teen to the policy. California's rates were the highest, so your own cost may skew lower.
Why Car Insurance Is so Expensive for Teenagers?
Insurance companies don't set rates arbitrarily. Years of data back what they do, and now they don't even need to be in business for decades to pull that data. They have access to accident statistics across all U.S. demographics and use that information to inform their decisions. According to the Centers for Disease Control, teens aged 16-19 are more likely to get into an accident than any other age group. If you go by each mile driven, that age group is actually about three times more likely than their older counterparts to be in a deadly crash. Car accidents are also the leading cause of death for the country's adolescents.
Can a Teenager Get Their Own Car Insurance Policy?
Each insurer has its own age minimums, but some will allow a minor to take out a policy. However, just because your teen can have her own policy, doesn't mean she should. Generally speaking, insurance will be cheaper if the teen is added to your policy, since your insurer likely recognizes that you have income, a good credit score and a history of paying your bill on time. However, since her driving record will affect your own policy, it might be worth considering a separate policy, especially if the price difference is minimal.
Other Car Insurance Considerations
The good news is, there are things you can do to lower the premiums your teenager pays. Many insurers offer discounts for students that get good grades and keep a clean driving history. You can also enroll your child in a driver's education program or sign up for an insurer-provided program that helps teach good driving habits.