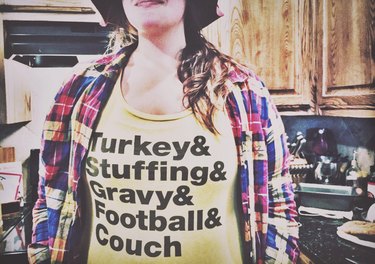 The countdown is on, Americans. Thanksgiving is just around the corner, and if you're still waffling about buying the right turkey, you could be running low on options. Not that we blame you — the options, it turns out, are a bit dizzying. Hosting your own Thanksgiving feels like a high-stakes proposition, especially the first time, but if you're going all deer-in-the-headlights, the internet has your back.
If you're wondering what the difference is between a free-range turkey and your average Butterball, The Kitchn has laid it all out. This comprehensive post starts simple (how big a bird should I buy for my guests?) and dives deep into whether the particular type of poultry you've purchased requires brining. Even better, you can judge which turkey is best for you based on cost, how your bird lived its life, how it's been processed, and how that all makes it taste.
First-timers especially may not be certain how to pull off the kind of Thanksgiving they want. Especially if you're not heading home this year, you may feel a bit unmoored and overwhelmed. NerdWallet lays out a game plan for an affordable and excellent Friendsgiving. Tip No. 1: Never be ashamed to opt for takeout instead. Also, bring your friends in for a potluck, not just for historical accuracy (though not too accurate) but for everyone's budget (and stress levels).
Finally, if you've gotten as far as buying the turkey but still aren't sure what to do with it, don't panic. The Butterball Hotline is real and ready to take your call.