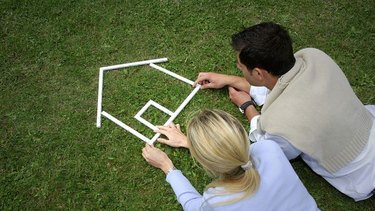 Pulling the trigger on a home purchase once was as straightforward as shopping for an affordable house, scrabbling together money for the down payment, securing financing at a reasonable interest rate and then closing.
However, in the years following the 2008 U.S. financial collapse, which stemmed in part from a housing bubble caused by irresponsible mortgage lending, the housing market endured huge turbulence. That economic maelstrom spawned unprecedented real estate market conditions that dictated housing inventories, affordability and financing terms, all of which affect the optimal timing of a purchase.
Despite the market's unpredictability, potential buyers can avoid ill-timed acquisitions by following certain safeguards.
With low prices and record-low interest rates, home affordability in 2012 was the most favorable since 1970.

Walter Molony, spokesman, National Association of Realtors (paraphrased)
Market Snapshot
The U.S. real estate market finally escaped the doldrums of 2008 through 2011. Home sales figures improved in 2012 by 9.5 percent over 2011, and the National Association of Realtors expects further gains for the rest of 2013, heading into 2014.
The bad news if you're looking to buy is that early 2013 is a seller's market in four out of five regions, said Walter Molony, an NAR researcher and spokesman. "The reason is we've had this big drawdown in inventory," he said.
The U.S. set a record for housing inventory in July 2007 with more than 4 million homes on the market. In January 2013, the inventory fell to 1.74 million, a 25 percent drop from January 2012 and the lowest inventory since December 1999.
The NAR expects a seasonal inventory rise in spring 2013, Molony said, but it may be insufficient to prevent frequent multiple bids or to drop home prices quickly enough.
"Prices are showing the strongest increase since November 2005," Molony said. "Because of this we've upgraded our price forecast for this year (2013). We think that the median price will rise nationally about 7 percent."
The median price in January 2013 was $173,600, 12.3 percent above the prior year, the 11th consecutive month of year-over-year price increases. NAR's projection for the median price for all of 2013 is $189,400.
"The downside of sharper than normal price growth is if that goes on for a prolonged period of time, then ultimately we run into affordability problems and you start to price people out of the market," Molony said. "We're not there yet."
With low prices and record-low interest rates, home affordability in 2012 was the most favorable since 1970, he said. After the 2008 housing bust, home prices bottomed out, dropping so low -- homes were selling for less than replacement construction costs -- that many investors jumped in, soaking up most of the inventory.
The strongest factor holding back the market is that "the lending community has been risk averse … only giving mortgages to the most creditworthy borrowers with arbitrarily high credit scores," Molony said.
In Chicago, for example, "move-up buyers," those moving up from their first homes, still face difficulty because lenders have more stringent requirements, said Zeke Morris, president of the Chicago Association of Realtors.
"It has been frustrating for some buyers at the higher price points," Morris said. "They're being asked for a lot more detail than they ever have been asked for before."
For the best deal, Molony said, buyers should work with real estate agents, preferably buyer's agents.
When Should I Buy?
Consumer confidence is a major impetus to making a sizable investment such as a home, Molony said. Topping the confidence list is job security.
"If you are unsure about the stability of your job, that's a big thing," Molony said. "If you have a short-term time horizon -- say, less than a few years -- you're going to be better off renting because in all probability … you won't recoup transaction costs."
The typical buyer today plans to stay in a home for 10 years; the typical seller has been in the home for nine years. In the past, real estate experts believed people had to own their home for three to five years to earn enough equity to make the investment worthwhile. Although it took longer to build equity after the market collapse, "It's probably true now or returning to that," Molony said.
Certified financial planner Cathy Pareto mentioned other confidence benchmarks people should consider before buying a home.
"Are you buying a house with your spouse, or are you going in half-half with a boyfriend or a girlfriend?" said Pareto. "How stable is that relationship? The other part would be, how does the market look?"
Financial wherewithal is another standard. "People make big mistakes buying too much house for what they can support," Pareto said. "What does your cash flow look like? Is half your pay going to support your new house? Well, that might be a stretch. What other sources of income do you have?"
If a prospective buyer lacks confidence in any of these issues, Pareto and Molony recommend renting instead.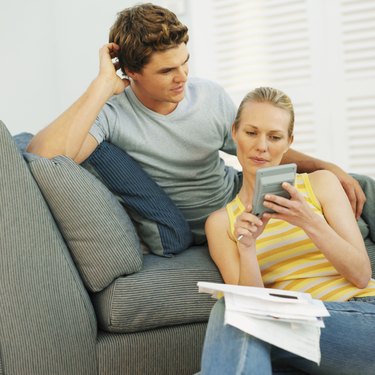 More Money Considerations
The housing market bust and banking industry collapse have made mortgage lenders squeamish about lending money, meaning potential home buyers need "decent" credit to be approved for financing -- "probably (a credit score) in the above 720s," said Pareto. "If you have less than stellar credit, you may be, in the eyes of the bank, a risky proposition."
If your credit is anything below excellent, you might hurt yourself with a bad loan.
"You may not be able to qualify for the low interest rates that are available to most people now, and you don't want to be paying more than you have to or should for the cost of borrowing that money," Pareto said.
First-time homebuyers should know their credit score; if it's low they should correct it. Pay your bills on time, don't take on new installment debt and don't apply for a new credit card or cancel an old one, Molony advised.
Buyers need enough funds to cover a down payment around 20 percent of the purchase price or the banks may "not even look at you," Pareto said.
The median down payment for first-time home buyers financing through a Federal Housing Administration loan is just 4 percent of purchase price, Molony noted. Many first-time buyers will look to their families for help with the down payment.
"Frankly, the National Bank of Mom and Dad is a very traditional means that homeowners use to make their purchase," he said. Referring to an annual NAR survey of homebuyers and sellers, Molony said, "When we ask first-time home buyers, 'What did you use for your down payment?' 76 percent say savings. Twenty-four percent -- a gift from a relative or friend, and normally that's a gift from their parents."
Buyers also need cash for closing costs, which vary geographically and by transaction, Molony said. Expect closing costs of 5 percent of the home's value.
Overall, a prospective buyer should calculate devoting 25 percent of his gross income to mortgage principal and interest. "That's going to allow you to be comfortable," Molony said.
Signs of a Buyer's Market
National Association of Realtors spokesman Walter Molony listed these signs as a measure of when the real estate cycle flips to a buyer's market:
Housing inventory and month's supply, or time-on market, are stable or modestly increasing; sellers may be more motivated to negotiate terms. A six-month supply is roughly balanced between buyers and sellers, but rapidly increasing inventory or time-on market outside seasonal norms could be a sign of a buyer's market.
Home prices are stagnant or rising less than a percentage point above inflation. Sharply falling prices increase affordability but could be a red flag of poor local housing and economic conditions. The normal long-term price gain in a balanced market is 1 to 2 percentage points above inflation as measured by the Consumer Price Index.
The relationship between mortgage interest rates, home prices and income allows you to spend less than 25 percent of gross income for mortgage principal and interest.
Job creation in the local market provides confidence and wherewithal to homebuyers. A poor economy makes it easier to buy, but sustained job and population losses mean it could take much longer than normal to sell at a profit. With normal price growth, most buyers build enough equity in three to five years to make a trade.