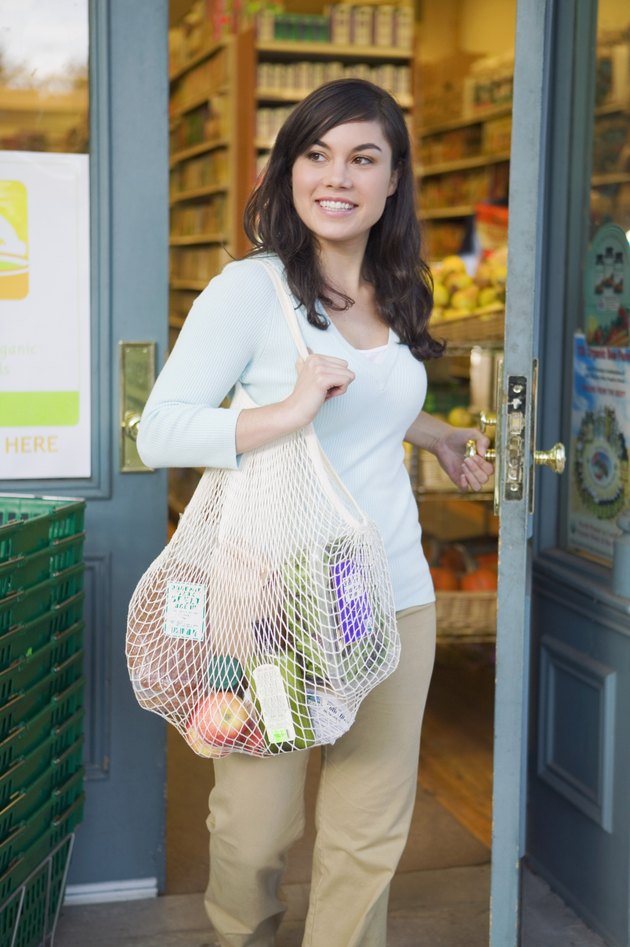 The list of frugal grocery shopping tips seems to go on forever. Typical ideas include buying in bulk, cutting coupons and stocking up during the off-season. But are all of these really the best practices when it comes to saving cash and filling the fridge for the family?
Don't be deceived by common myths that may end up costing you at the checkout. Dig into fresh strategies, and you could end up saving more than a few dimes every time you fill your cart with fruits, veggies, meats and name-brand goodies.
Frugal food choices are not always about the price tag. You have to think about whether you'll use the item.

Jean Chatzky, finance expert and author of "Money Rules"
Myth No. 1: Bigger Is Better
The phrase "go big or go home" doesn't always indicate a winner when it comes to frugal grocery shopping. Bigger is not always better, says Teri Gault, founder and CEO of TheGroceryGame.com.
"Where there are three sizes, the medium size is often the better deal on cost per unit," she said. "Add a coupon, and the math then favors the smallest package."
Buying in bulk can also lead to waste. According to Jeanette Pavini, household savings expert for Coupons.com, buying in bulk works only if you use everything before the expiration dates and before your kids get sick of the same cereal for three straight weeks.
Myth No. 2: Everything in the Store Circular Ad Is on Sale
If you're solely using the store's weekly advertising to make your shopping list, stop. Those ads can be deceiving.
"Many times, store circulars feature items that are not on sale," Pavini said. "They are just letting you know they carry the item."
Myth No. 3: Store Brands Are Cheaper
You may think you're getting a better deal buying the store brand versus the name brand, but that's not guaranteed. Compare the cost per unit, Gault says, and more often than not, you will find the name brands are priced competitively with store brands. If you happen to have a manufacturer's coupon for the name brand, you could even beat the store brand price.
Myth No. 4: Buy Only What Is on Your Shopping List
It's nice to go to the store with a plan to avoid impulsive buys, but allow yourself a little room for innovation. If you stick to your list blindly, you may miss out on discounts on items you'll eventually need.
"When you make a shopping list of what you need, odds are that about 80 percent of what is on that list will not be on sale," said Gault. Instead, Gault encourages stocking up on items on sale.
"Most everything you need or like should go on sale once every 12 weeks," Gault said. "And since you can stock up on everything except milk and produce, [there's nothing wrong with] buying things before you need them."
Myth No. 5: Meal Plans Save Money
Have you ever taken a recipe into the store and found every ingredient on sale? It's not likely, says Gault, which is why making a meal plan isn't always a recipe for saving money. If you plan around your pantry, you'll find the options for meals and saving money are much bigger.
"I have about 10 dinner options every night in my 'store,' " Gault said. "Look in your fridge, freezer and pantry and ask yourself each day, 'What can I make with what I have been buying?' You save money, and you don't have to plan."
Myth No. 6: Cut and Packaged Meat Is Cheaper
Supermarkets display packaged meat as the best deal, but you may save much more money buying an entire slab. Pavini suggests bargaining with the butcher for the best deal.
"Many times you can get a fresher cut and a better price if you buy the slab of meat whole and ask the butcher to cut it for you," she said.
If you can, meet the meat cutters in the evening hours.
"You can save because some butchers will slash the prices as the end of the day approaches," Pavini said.
Myth No. 7: Organic Is More Expensive Than Non-Organic
Organic foods carry a reputation for being healthier, and more expensive, than their non-organic counterparts. The health question is another issue for another time, but Jean Chatzky, finance expert and author of "Money Rules," refutes the more expensive claim.
"Frugal food choices are not always about the price tag," she said. "You have to think about whether you'll use the item. I buy organic milk religiously because it has a much longer shelf life than regular milk. Organic lasts for weeks and never goes bad before we use it up. So I spend a little more on the milk itself, but not as much as I'd spend replacing the regular milk once it soured."
Savings also abound at local farmer's markets. The markets offer food grown in season, and their food is far more available and cost effective than what the grocery store can offer, according to Chef Nathan Lyon, author and host of Veria Living's "Good Food America."
"When corn or strawberries are in season and local produce is bursting from the fields, prices go down because the majority of farmers are growing in abundance," Lyon said. "And where else than a farmer's market can you get deals like a massive bunch of kale for $1 only to have your local farmer throw in an extra bunch as a kind gesture of your support?"
Shopping at a local farmer's market near closing time can also save you cash.
"The selection may be sparse, but you can still find beautiful fruits and veggies, and sellers are willing to negotiate or slash their prices," Gault said.
To Coupon or Not to Coupon
People can get discouraged with coupons because they don't know when to use them. But Gault says coupons are worth cutting and has the figures to prove her point.
"A family can save an average of $514 a month for a family of four and only spend 30 minutes a week cutting coupons," she said. "A good sale is the key to using coupons. It's all about timing and stacking -- sales plus manufacturer coupons plus store coupons plus register rewards equals great savings."
Pavini says it is always worth it to use coupons.
"Thanks to the Internet, you can get more bang for your buck as opposed to the days when you had to wait for the Sunday paper to see what coupons were available," she said.
Chatzky has one reason to hit the brakes on coupons. Just because you have them does not mean you have to go shopping.
"Moms have to realize the opportunity to get a deal lights up our brains like a Christmas tree," Chatzky said. "At that point, making the purchase is no longer whether you need or even really want the item, but about taking home a trophy or a prize."
Instead, Chatzky recommends a moment to stop and think about whether you need the item, how you'll use it, where you'll put it and what happens if you don't buy it.
Frugal Food Choices for Healthy Eating
It is possible to maintain a healthy lifestyle for less. Frugal food choices can lead to many health benefits for the entire family.
Targeting foods with a longer shelf life will pay off in the end, says Teri Gault, founder and CEO of TheGroceryGame.com.
"Whole-grain rice is cheaper than filling up on whole-grain bread," Gault said. "It's high in fiber and has a long shelf life, so stock up when it's on sale."
Some other foods may fit your budget and health needs. Spuds should top your starch chart because potatoes are high in fiber and potassium and won't put a dent in your pocketbook. Adding beans to your next meal may also spruce up your menu.
"Meatless Monday is a great tradition for good health and healthy for your wallet if you choose legumes," Gault said. "Beans are super cheap, save money, add fiber and allow you to put the money you saved into buying more produce."