Gabi Moskowitz is the editor-in-chief of the nationally-acclaimed budget cooking blog BrokeAssGourmet.com. She is the author of several cookbooks, and the co-producer of "Young & Hungry", a Freeform comedy airing Mondays at 8/7 Central. Now in its fifth season, the show is inspired by her life and writing. She lives in San Francisco.
I'd like to let you in on my favorite trick for making dining out both more fun and more affordable: Pass on the entrees in favor of the vastly more interesting, generally cheaper appetizers. If one doesn't seem like enough food, order two (it'll likely still be cheaper than one entree, and you get to have 2 dishes for dinner!). My strategy is usually one slightly naughty app -- maybe something fried or cheesy -- and one virtuous item, like a fresh green salad. While my dining companions get stuck with whatever full-on main course they decide on, I greatly enjoy having my own personal pupu platter of options. Which brings me to what I'm cooking this week.
Just as I enjoy variety in restaurants, at home I often prefer a plate with a few little things on it over one big hunk of entree. So this week, I'm taking inspiration from my favorite dining out trick and focusing on snacks and appetizers, then rounding out the meal with a simple salad, roasted vegetable, or sliced crudité.
First up is my fabulous Guacamole Deviled Eggs, which combine 2 of my favorite snacks in one delicious, low-carb package. It may seem a little odd to have deviled eggs for dinner, but trust me on this one. These come together so easily and are so addictive, I am certain they'll promptly become a regular part of your rotation. Add a hearty kale salad, and you'll looking at a fabulously tasty and healthy meal that's on the table in under 30 minutes.
Next, I'm making a big batch of my ultra creamy dreamy homemade hummus. Please stop buying hummus. I know it's convenient and easy, but once you make it yourself from very cheap pantry ingredients, you will learn what I did: Homemade blows store-bought out of the water. Also, this recipe makes a whole lot of hummus, which means you can have a little with some pita, pickles, and salad for dinner, and save the rest for healthy snacking the rest of the week.
And of course, we gotta have something with bacon. These bacon-wrapped sweet potatoes are utterly addictive and go nicely with other roasted vegetables. I pop 'em in the oven per the directions with a tray of broccoli and/or cauliflower tossed with a touch of olive oil and some salt and pepper, and by the time they're done cooking, my whole dinner is ready. BTW: turkey bacon works well here if you're not so into pork.
And speaking of sweet potatoes AKA red garnet yams, let's talk about these easy one-pan nachos. While regular tortilla chip nachos might not be the best dinner, these guys, plus a salad, actually make a pretty compelling case for themselves. The key is to slice the sweet potatoes thinly enough so they get crispy when they bake. If you have a mandolin, this is a great time to use it.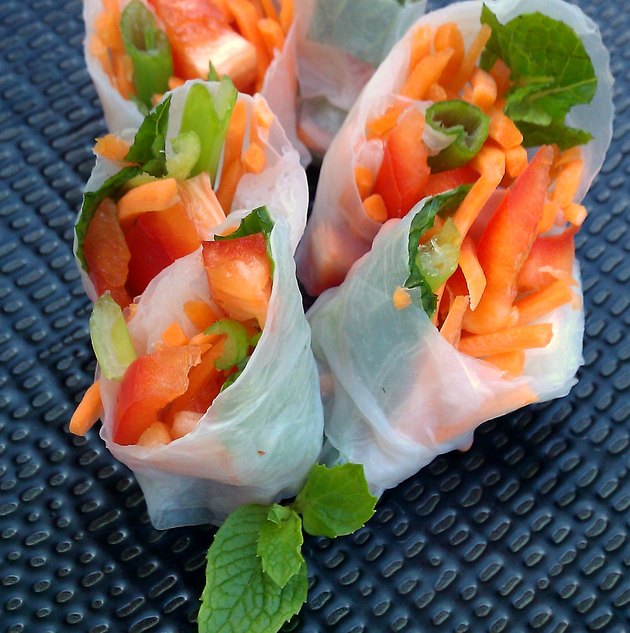 My favorite impressive yet crazy simple meal to make at home is definitely these spring rolls. In the recipe, I call for a simple vegetable filling, but you can add anything you can think of, from shrimp, to grilled chicken, to avocado, to pulled pork, to crispy tofu. I've even seen fresh fruit like mango and strawberries added to these. I love to serve them with my mind-blowingly good peanut sauce, but sweet chili sauce, sesame vinaigrette, or sriracha are all great with these. I like them with crunchy vinegar-dressed slaw, or alongside a cold veggie-based soup.
I hope these meal ideas inspire you to bring the fun of appetizers for dinner into your kitchen! Here's your grocery shopping list:
2 cups dried chickpeas

baking soda

extra virgin olive oil

tahini

salt

zaatar

Ancho chili powder

black pepper

honey or brown sugar

red pepper flakes

10 8-inch rice paper spring roll wrappers
1 lemon

1 head garlic
3 sweet potatoes/garnet yams

1 ripe avocado

1 bunch green onions

1 bunch fresh cilantro

1 green jalapeño

1 lime

2 carrots

1 cucumber
8 ounces cheddar cheese

unsalted butter

½ dozen eggs