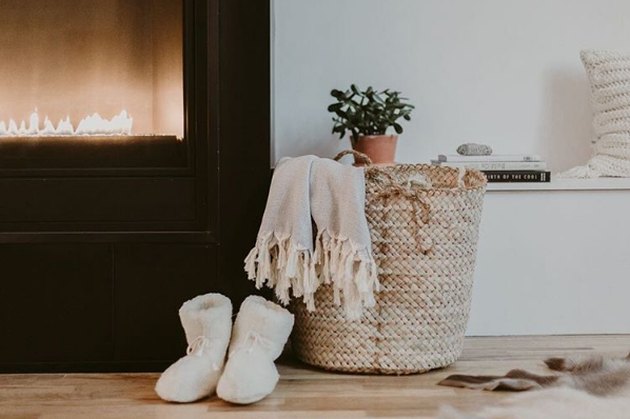 Since we're not bears, and therefore can't hibernate our way through the cold winter months, the Danish idea of hygge satisfies that desire nicely. If you've missed out on this cuddly concept, hygge (the closest pronunciation for most non-Danes is hoo-gah) is that cozy-by-the-fire feeling that we often associate with an ideal wintry day. Here are some easy ways to enjoy hygge, using what you probably already own to surround yourself with comfort.
Glow
White candles are particularly hyggelig, but any will do, particularly when placed at a variety of heights or levels. Or dig out your white twinkle lights from the holidays (maybe you never put them away?) for an added layer of the glow that creates that sense of snug.
Disconnect
Unplug from phones, TV, and other electronic distractions and engage with a board game, a book, or just conversation.
Cuddle
Create a warm, welcoming place to burrow in: Anything fleecy or fuzzy will fit the bill, as will piling a few extra cushions onto your favorite seat.
Simmer
Make a pot of something warm—mulled wine or cider simmering on the stove smells (and tastes) delicious. An easy, stress-free meal would fit right in here, especially comfort food that bubbles or bakes while you relax.
Create
Pull on the softest pair of socks you own—looks don't matter here, just warmth. While you're at it, if you knit, crochet, or do any other kind of handiwork that makes you feel calm and peaceful—a hygge day is the time to get it out.
Relax
Most importantly, enjoy the relaxation and well-being of knowing you are comfortable in your home.