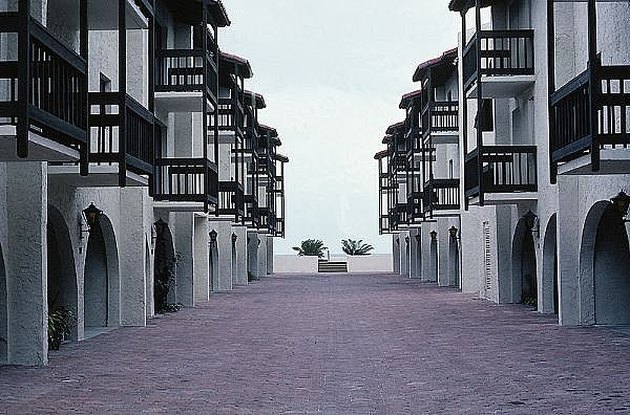 If your version of the American dream doesn't include mowing the lawn, think about buying a condo. Good options for both first-time home buyers and older folks who are ready to downsize, condos are typically smaller and less expensive than a single family home, and can include attractive amenities as part of a home owners association (HOA), such as pools and fitness facilities. Bone up on both the pluses and the minuses.
Step 1
Think about how long you're going to stay in one place. Buying a condo is no different than buying a single-family home--you need to live there at least a couple of years to recoup closing costs, assuming the property will appreciate.
Step 2
Give some thought to what you want. If you're not interested in the pool or sauna, understand that the condo's price and ongoing monthly association fees will reflect their use regardless of your interest in swimming or sweating.
Step 3
Visit various condominium or townhouse communities and multiunit buildings so you know what's available where you live. Get a sense of prevailing prices.
Step 4
Request a market analysis from a real estate agent regarding the selling prices of condos in the building or area. Check the price appreciation on the market analysis to evaluate how quickly the condos are increasing in value; subtract the selling price from the purchase price and divide by the number of years the property has been held by the previous owner for a ballpark estimate of annual appreciation, if any (varies from state to state and place to place), in the neighborhood.
Step 6
Find out if the building has a good reputation. Ask current residents how often repairs and maintenance are required, and how good the soundproofing is between units.
Step 7
Check out parking, storage, security and other amenities.
Step 8
Ask to see the minutes from a recent meeting of the home owners association (HOA). Find out what the hot issues are and if members are fighting tooth and nail. You may want to keep looking-- nobody wants to live where neighbors are at each other's throats.
Step 9
Ask how large the HOA's reserve funds (used to pay for maintenance and emergency repairs on the building) are. The larger the reserve, the less a chance of an assessment or one-time payment to chip in for an unexpected expense. The smaller the reserve, the greater the chance you'll be billed for an assessment in the near future. Some states require periodic updates of reserves to be published to HOA members.
Step 10
Check the HOA's history of assessments to see how many have been made in the past 10 years and how large they have been. This information will help you gauge how likely it is that you'll be assessed in the near future, and indicate how well-managed the building is. Better managed buildings make fewer assessments.
Step 11
Talk to other members and find out how restrictive your HOA is. For instance, some buildings even dictate what sort of holiday lighting you can put up. Request the same information as you would for buying a house. Read the CC&Rs (covenants, conditions and restrictions).
Step 12
Budget in association dues, which are above and beyond your monthly mortgage payment. To assist in long-term financial planning, ask the condo association whether association fees have increased in recent years. Also estimate monthly maintenance costs that you're responsible for in addition to the association fees.
Step 13
Tip
Count how many common walls you may have with neighbors for a feel for how much noise you may hear (or transmit).
Warning
Some apartment buildings are converted to condos, giving you the opportunity as an apartment dweller to buy into the building and own your own place. Just because you live in a building now doesn't necessarily mean it's a good deal as a long-term investment, however. If your own building converts to a condo, evaluate it just as carefully as you would if you were looking at a building across town. You may find it makes more sense to move.