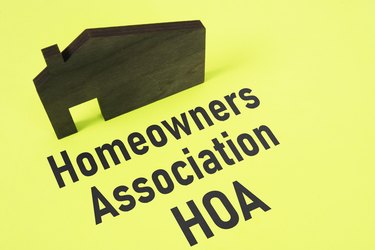 Your new condominium or house might be subject to a homeowners association (HOA). You've probably heard there are rules and regulations to living with an HOA. There are covenants and bylaws.
Knowing the covenants is essential to living in peace with the other property owners and the board of directors. There are prohibitions in these covenants that might affect your home.
Homeowners Association Purpose
A planned community often has an HOA. An HOA is a nonprofit governing body of a community consisting of a board of directors. Its board members ensure that the HOA community is run efficiently and that the covenants are followed. Board members also enforce rules and regulations.
Property owners pay fees to the HOA. These fees go toward maintaining the units or neighborhoods. For instance, the HOA maintains common areas, like swimming pools, playgrounds and landscaping.
Covenants, conditions and restrictions (CC&Rs) are the community's rules. The HOA CC&R spells out what can and cannot be done. They're legal governing documents.
The CC&Rs explain property owners' rights and what the HOA is obligated to do for its members.
Although some of the CC&Rs may seem commonsense, there are some covenants that may be downright unreasonable to your thinking.
For instance, a covenant stating that the lawn must be cut and weed-free seems reasonable. But not being able to paint your house the color you want can be inconvenient. Often HOA covenants will restrict what you can do with your home's exterior.
Other covenants may include a location for parking vehicles, what, if any, pets you may have and where to store garbage cans or other items.
The HOA covenants work in the homeowners' favor as well. Because the covenants ensure well-maintained houses, property values usually stay consistent or increase with time.
Some covenants require the HOA to provide services like maintaining common areas or landscaping.
Property owners have voting rights, so they may work to change covenants. Or they may vote board members out of office whom the homeowners feel are abusing power.
Penalties for Violating Covenants
There are penalties for violating the CC&Rs. If you violate them, loss of use of common areas, like the gym or pool, may occur. Fines are also levied against violators.
If there is a problem with your home, like painting the house an unauthorized color, forced compliance may happen. In other words, the HOA may repaint your home at your expense.
One significant penalty is a lien placed on your house. If you don't pay a fine or assessment, the HOA has the right to place a lien. It generally requires a lawsuit and a judge's order. But it could cause a problem if you go to sell your house since you won't be able to sell until the debt is paid and the lien lifted.
Depending on the HOA's governing documents and state law, the HOA could foreclose the lien. But some state law forbids liens for unpaid fines. In addition, it restricts or prohibits foreclosures for unpaid fines or related attorneys' fees.
Covenants, conditions and restrictions (CC&Rs) are the community's rules.
Board of Directors and HOA Bylaws
When conducting meetings or HOA day-to-day business, HOA board members are governed by the bylaws. The bylaws are a set of rules that tell the board members how the HOA should be run. These are enforceable laws and legally binding.
Some bylaws include frequency of board meetings, election procedures, meeting quorum and requirements and membership voting rights.
Although bylaws tell the board members how to govern, in most cases, they don't trump state law.