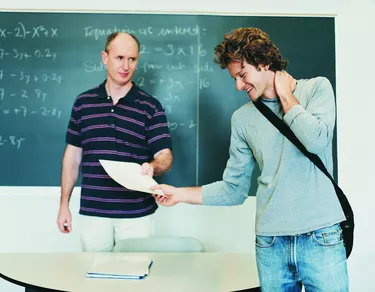 Government grant money, readily available for people with low income and bad credit, has no requirement for repayment. These grants cover a wide range of projects, from assisting those of low income in funding education goals to achieving their home-ownership dreams, making essential home repairs and providing water or waste water.
Education Grants
Individuals planning to attend college may apply for school grants to cover the costs of tuition, books and other expenses of higher education. You family income must not exceed a certain threshold, and your credit has no bearing on whether you receiving grant funding. Find out which grants, if any, you can obtain by completing the FAFSA (Free Application for Federal Student Aid) application on line.
Home Ownership Grants
Housing grants are given nationwide through organizations such as Habitat for Humanity, the Housing Assistance Council and other nonprofit organizations. The grants are provided in conjunction with the U.S. Housing and Urban Development's (HUD's) Self-Help Homeownership Opportunity Program, known as SHOP. SHOP grants may not exceed $15,000 per home, as of July 2011. Moreover, the organization uses other donations, often including sweat equity (manual labor) of the potential homeowners. SHOP grants help low-income individuals and families who may not otherwise be able to afford home-ownership own a home of their own.
Home Repair Grants
Home repair grants fund home repairs that make a house safe or improve its energy efficiency. Typically, these grants are offered only to citizens who cannot obtain an equity loan due to insufficient income and/or bad credit. Not available for additions or cosmetic projects, the funds provide for projects that upgrade the home's energy savings by installing storm windows or other products, upgrading electrical wiring to code specifications or replacing the septic tank, for instance. The U.S. Department of Agriculture oversees these federal grants through programs such as the Rural Repair and Rehabilitation Loans and Grants program. Furthermore, a careful search often turns up home repair grants specific to your state or city.
Water and Waste-Water Grants
The U.S. Department of Agriculture offers grants through the Individual Water and Waste Water Grants program. Homeowners living in a colonia that was recognized as such before October 1, 1989, are eligible to apply for grant funding. A colonia is a residential area along the Texas-Mexico border that may lack potable water and sewer systems, among other basic living necessities.
Homeowners must prove ownership of the property in the qualifying colonia and show a household income below the federal poverty line in order to qualify. Grant limits vary according to type of project -- water service or sewer service projects. A $5,000 lifetime cap exists for grant funding per individual homeowner, regardless of the number of grants funded on a given property.