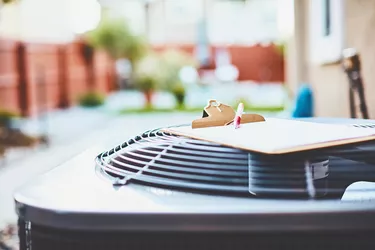 Having an efficient, properly working heating and cooling system for your home is vital – no matter where you live. But, if you're a homeowner, you know how costly this can be to replace and maintain. A home's heating, ventilating and air conditioning, or HVAC, system can really take a chunk out of your maintenance budget, and you often don't realize how much you need it until it stops working. When the central air goes out or the heating is on the fritz, you could find yourself struggling to replace or repair these systems. Fortunately, there are government grants for HVAC systems and tax credits or rebates available to help you shoulder some of the costs associated with efficiently heating and cooling your home.
ENERGY STAR Tax Credit
Although the ENERGY STAR tax credit isn't a government grant, it does allow you to get 10 percent of the cost up to $500 (or a specific amount from $50 to $300) towards qualified HVAC purchases such as central air conditioners, gas, propane or oil furnaces and water heaters. These systems must be ENERGY STAR certified, but keep in mind, this tax credit is set to expire on Dec. 31, 2020. In order to take advantage of this credit, the home must be an existing, primary residence – not new construction – and it cannot be a rental property.
It's worth noting that the Equipment Tax Credit for Primary Residences has been retroactively extended from Dec. 31, 2017. So, if you purchased a qualifying HVAC system after this date, you're still eligible to claim the credit. ENERGY STAR also offers rebate programs for certified ENERGY STAR products. In order to claim this tax credit, you will need to file IRS Form 5695 along with your tax return. For more information, feel free to visit the IRS website.
Weatherization Assistance Program
The U.S. Department of Energy, or DOE, Weatherization Assistance Program is designed to help low-income homeowners with the cost of weatherizing their homes. Not only do these improvements help residents feel more comfortable in their homes, but they can also help households save an average of $283 or more per year from weatherization upgrades and improvements. Since its inception in 1976, this program has helped more than seven million families. Applying for the program is straight-forward.
First, you will have to find and contact your local weatherization agency, and not the DOE directly. Next, you will need to fill out the agency's application, which usually takes about 20 minutes. After your application is received, then your local agency will make the determination as to whether or not you qualify. If you do qualify, you will likely be placed on a waiting list that is prioritized by greatest need. But, the program provides these services at no cost to the homeowner.
Database of State Incentives for Renewables & Efficiency
It can be difficult to navigate the various government grants for furnaces or grants for water heaters and energy efficiency, especially as programs can expire often. However, the NC Clean Energy Technology Center's Database of State Incentives for Renewable & Efficiency, or DSIRE, is the most comprehensive and up-to-date database of state, federal and local incentives for renewable energy and energy efficiency available. On the DSIRE website, you can search for policies and incentives or rebates by zip code or state. From there, you're able to find more information regarding program guidelines and requirements.