When your four-wheeled baby suddenly starts buckling and coughing out black smoke, you take it to your mechanic to get it fixed. Like a doctor, the mechanic will typically diagnose the problem first, tell you what needs to be repaired or replaced, and tell you how much it'll cost you to get your car back into shape. When an approved repair does not fix the problem, the mechanic failed to correctly diagnose the problem in the first place. When this happens, mechanics will often refuse to provide you a refund, since they did spend time working on your car and paid out-of-pocket for any parts that were replaced. However, you're not necessarily out of options.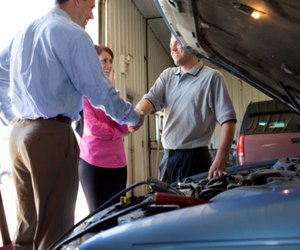 Step
Ask to speak to the manager in charge of the repair shop or establishment where you took your car to be worked on.
Step
Introduce yourself to the manager in a calm and collected manner, and explain the problem. Tell him what the original problem with the car was, what work the mechanic performed on it and explain that the problem is still there.
Step
Tell the manager what resolution you would like. Before asking for your money back, you may want to allow the shop a second opportunity to fix the problem, at no charge to you. However, if you're so unhappy with the mechanic's work or attitude that you want nothing more to do with the establishment, ask the manager to refund your money. At this point, the manager will either oblige or refuse the refund request. He will most likely offer a partial refund, asking you to pay just the cost of the part but returning any service charges.
Step
Explain what steps you're prepared to take if you don't get your money back. For instance, you might tell him that you will file a complaint against the company with the local Better Business Bureau or the local Chamber of Commerce. You might even threaten to file a suit in small claims court against the company. Don't make threats you're not prepared to carry out.
Step
Report the company to both the Chamber of Commerce and BBB if at this point you still have not received a refund. If the cost of the unnecessary repair was very expensive, then consider filing a lawsuit to recover your money. Many states have all the forms needed online to file a lawsuit in small claims court, so you don't need to hire a lawyer, although if the cost of an attorney is not an issue and you're suing on principle, then retain an attorney to make the legal process easier for you.