Performing even minor electrical work on a home brings with it a series of risks, both to the worker and the people who'll eventually inhabit the house, so states and local governments produce and enforce building codes that promote safety. In many cases homeowners can perform their own electrical work without the help of a trained professional, as long as the work complies with local codes.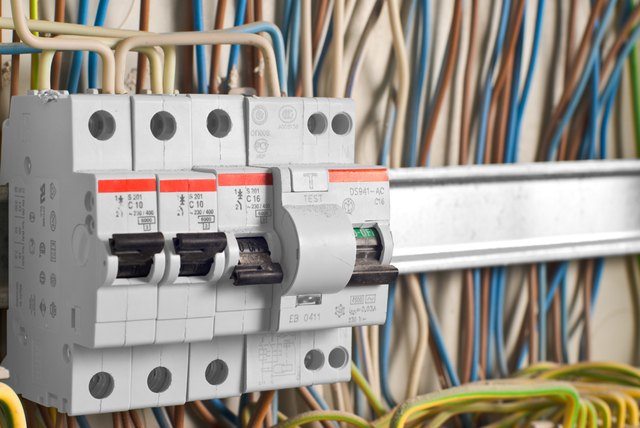 credit: Dmitry Khochenkov/iStock/Getty Images
Allowable Actions
Some forms of electrical work fall outside of any state or local regulation. In general, homeowners can perform only the most basic repairs on their own, without any form of license or permit. This includes tasks such as replacing a light switch, outlet cover or lighting fixture. It also includes replacing a fuse box, but only when the replacement box is the same type and size as the previous box. Most other electrical work requires a permit.
Permits
Electrical permits ensure that homeowners who perform their own electrical work--or hire contractors to perform it--comply with local building safety codes. Homeowners can apply for permits to perform their own electrical work. Some local governments--such as the city of Boise, for example--only issue electrical permits to homeowners who don't plan to sell their homes within a year. Homeowners also must supply proof of ownership and identification to receive electrical permits that allow them to make repairs or expand a home's electrical system.
Licenses
Electrician licenses allow trained professionals to perform electrical work and charge for their services. Homeowners who plan to sell their homes in the near future, or who perform work on homes other than their primary residence, must either hire licensed electricians or become licensed themselves. Licensed electricians still must apply for and receive the same permits as homeowners who do their own work.
Penalties
Homeowners who perform unauthorized electrical work on their homes without the appropriate permits, or who perform work on others' homes without a license, face stiff criminal penalties. In New York, for example, false representation or violation of the state electrical work code is a misdemeanor. Fines range from $500 for a first offense to as much as $5,000 for a third offense, as of 2011. A third offense also carries the possibility of up to six months in jail, in addition to a fine.