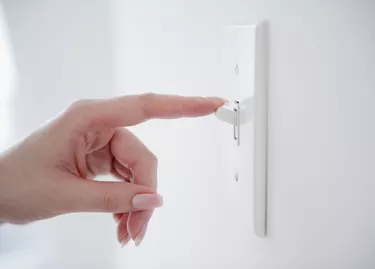 If you need some electrical work done in your house but don't want to pay for a professional electrician, you might consider taking a do-it-yourself approach if you have some knowledge of electrical systems. However, whether you can legally do electrical work on your house will depend on the type of work you need done and your city or county's laws. In most cases, you will need to obtain a permit before you can move forward. You'll want to carefully understand the risks of DIY electrical work and the law to decide whether you should hire a professional instead.
Understanding What Homeowners Can Do
As long as the electrical work you need to do is minor and doesn't involve something like changing the main electrical panel, you can often legally do it yourself. However, the complexity determines whether you need to seek a permit before doing so.
For example, your locale may not require a permit if you just need to replace a switch, fuse, light or appliance. This same exemption may apply if you just need to do some basic maintenance on your system or remove old wiring. However, you'll likely need a permit if you plan to install new wiring, put in a new security system or add an additional outlet.
Keep in mind that such exemptions and allowed work will vary by city or county. So, you'll need to contact the relevant department to make sure your electrical work doesn't demand a licensed professional.
Getting Approved for Electrical Work
Before you proceed with trying to do any electrical work in your home, check with your city or county government. You'll want to find out the process you need to follow and learn about any electrical tasks prohibited by homeowners in your locale. You'll often find this on the city or county's government website under a section for licenses, permits or building construction. The credential you'll need usually may be referred to as a homeowner's permit, homestead permit or simply an electrical permit.
Often, the city will require that you've lived in the house for a certain amount of time, that you're listed on the deed and that the place is your primary residence. You'll also need to own the land as well, so you'll often find that manufactured homes don't qualify since the land is often rented. Work done to the main electric panel and installations of new electrical systems often aren't permitted for homeowners to do themselves.
Your local government usually makes you pass an exam on electrical concepts to move forward. You'll then show a plan of your work and have a professional review it before you can get the permit, which usually also comes at a fee. After you get the work done, expect a local official to perform an inspection and make sure your work is up to code.
Electrical Work Done Without Permit
If you do electrical work without getting the proper permit, you can face fines due to issues like building code violations. At the same time, unless you have professional training and experience as an electrician, you could make mistakes that cause a fire hazard, disrupt your electrical service or otherwise put your family and home at risk. Paying the extra money to get a licensed electrician can help save you headaches from such dangers and give you peace of mind.
Further, the penalty for not pulling a permit can also be seen when you try to sell your house later. If your city inspects the home and can't find permits for the work, you might end up having to tear apart walls to expose the work and hire someone to certify it. Buyers may also feel less comfortable purchasing a home that had unauthorized work, and this could cause difficulties with selling.