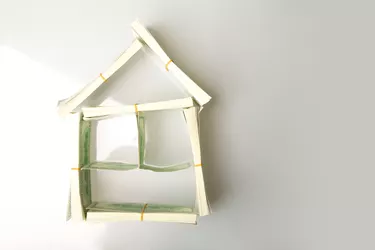 A title loan lets you borrow money using property you have title to, such as a car, a boat or a mobile home, as collateral. You turn over title to the mobile home or other property when you take out the loan, then recover the title if you pay the loan back.
Pros and Cons
Title loans offer advantages to borrowers who have bad credit scores or haven't had time to establish much of a credit history. Transferring title gives the lender collateral, so your credit problems aren't a huge concern. Although the lender has title until you repay the money, plus the interest, you can still live in your mobile home, just as you can still drive your car if you use an auto title loan.
The big drawback to a home title loan is that if you can't pay it back, you lose your home. As loans are usually for less than the value of your home, you may lose the title for a much smaller amount than your home is worth.
It may not be easy to repay the loan, either, as the interest rates are steep In Oregon, for example, the maximum annual rate for title loans at time of writing is 36 percent. In other states, maximum rates are in triple digits.
Affordable Title Homes says that if the loan is short-term, used for quick, emergency cash, then the total interest payments by the time you repay it shouldn't be too steep. The National Association of Consumer Advocates says the short term of the deal — loans may be only for one month — is a disadvantage, as it gives the borrower little time to pay off the loan. Borrowers can end up trapped in a cycle of having to take out more loans to pay off the first.
The NACA lists title lending companies as predatory lenders like payday loan companies.
Your state laws may restrict the terms or options for home title loans. Missouri, while it allows title loans on cars, bans them on mobile homes.
Qualifications
Because of the ready collateral, qualifications are looser than for, say, a mortgage. The standard requirement is that you have title -- you can't take out a loan against a rental, for instance -- and that you own the home free and clear. Depending on the lender's policy, a small loan against the property may be acceptable.
The lender may not require you get an appraisal or an inspection. You may have to show the insurance and property taxes are paid up, and that you have the income or resources to repay the loan. In some states, such as Oregon, title lenders are legally required to confirm that you can pay the loan back.