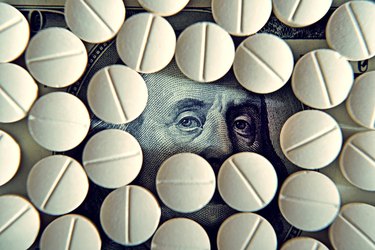 A common question surrounding health insurance is how much you'll be expected to contribute to the cost of your medical care. Cost sharing is a financial risk-management strategy that includes items like deductibles, coinsurance and copayments. Most insurers limit these costs to an annual out-of-pocket maximum and provide options for reducing upfront costs.
The Annual Deductible
Both an out-of-pocket maximum and a deductible are annual, fixed dollar amount expenses. However, a deductible always will be the smaller of the two, because it is only part of what makes up your annual maximum contribution. For example, your plan may include a $1,000 deductible and a $6,000 annual out-of-pocket maximum.
A deductible is the amount you pay for health care before health insurance benefits start paying for covered services. The amount varies between $250 and $5,000 or more, depending on whether you choose individual or family coverage. This amount typically has an inverse relationship to monthly premium payments. Plans with higher deductibles generally have lower monthly premiums, because you're paying more up front. Regardless, you pay 100 percent of all costs until you meet the plan's deductible.
Pros and Cons
The tradeoff between lower monthly premiums and a higher annual deductible is an important consideration in choosing the right insurance plan.
On the one hand, a higher deductible and lower monthly premiums may work if you're in good health, rarely visit a doctor and do not require prescription medication. However, according to a UCLA Center for Health Policy Research report cited by Bankrate, people with high deductible plans often are less likely to seek treatment for conditions requiring professional medical care.
While in some cases your budget may dictate the best option, a lower deductible and higher monthly premiums might be more appropriate if you have a condition that requires regular medical care.
Meeting the Out-of-pocket Maximum
According to BlueCross BlueShield of Louisiana, out-of-pocket maximums range from $1,000 to $10,000. Once you meet the annual deductible, insurance companies usually pay only a percentage of benefits for covered services until you meet the out-of-pocket maximum for the year.
For example, if you have an 80/20 plan with a $1,000 deductible, a $6,000 out-of-pocket maximum and incur an $800 doctor bill, you'll be responsible for the entire amount if you haven't met the deductible for the year. If you've met the deductible but haven't yet met the out-of-pocket maximum, the insurer will pay $640 and you'll pay the remaining $160. However, the $160 coinsurance payment counts toward meeting your annual out-of-pocket maximum. Once you reach the limit, the insurer will pay 100 percent of the bill for covered services.