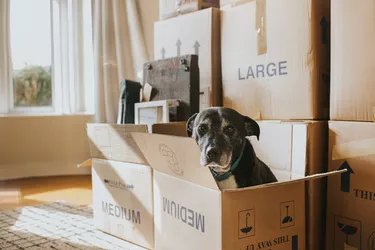 If a tenant's home or yard is in bad shape due to neglect or bad housekeeping, you have two choices. If you want to keep the tenant, send a polite letter or email that describes the problem and asks him to address it. If you are willing to evict the tenant, check your area's landlord-tenant law. In many places, you can't file an eviction until after you've sent the tenant a "cure or quit notice," a document that warns the tenant that you plan to evict him unless he cleans up the mess by a specific date.
Whichever option you choose, you should learn about what goes in a sample warning letter to tenant for cleanliness issues or a cure or quit notice letter.
Send a Request for Cleanup
If you take a look at a sample letter to a tenant to clean up the yard or residence in general, you'll see that you should explain at the beginning of your letter that you want to address an issue so that you and the tenant can continue to have a good relationship. You'll then proceed to describe the conditions that require attention.
For example, if the grass hasn't been mowed or there is trash piling up in the yard, state this. The tenant will do a better job of cleaning up if he knows what he needs to do.
You'll need to offer options for the tenant. Explain to your tenant that if he is unable to handle the cleaning himself, you are willing to hire a landscaper, junk-hauling service or cleaning service at your tenant's expense. Tell the tenant that you want the cleaning completed by a specific date and that you'll be over on that date to inspect the premises. Ask the tenant to contact you if that date doesn't work for him.
Send a Cure or Quit Notice
As an alternative to finding how to draft a sample letter to a tenant to keep the property clean, you can research eviction law in your state and municipality and decide to write a cure or quit notice. State and local laws define how much time you must give the tenant to correct a lease violation before you can file an eviction case. In Alabama, tenants get ​14 days​ to address an issue. Tenants in New Mexico only get ​seven days​.
Follow landlord-tenant law for your area when composing the quit or cure letter since states may specify the language and type size that you use in the letter. Talk to your lawyer if you need help writing a quit notice, or you can consult legal document firms that have quit letter templates that you can use. These letters usually describe the problem, ask the tenant to resolve it and set a deadline for completion. Cure or quit notices also ask the tenant to leave the premises if the tenant doesn't plan to comply with your requests.
Deliver the notice in accordance with state and local laws and be sure to record the time and day of service in case you need this evidence for an eviction. In California, a landlord or her representative must attempt to hand the notice directly to the tenant. Only if personal service isn't possible can the California landlord leave the notice on the tenant's door and then follow up by sending a copy in the mail. In Massachusetts, a landlord has several options and can choose to send the notice via first-class mail without attempting in-person service.
Considerations for Tenant Eviction
If you end up evicting your tenant because of her refusal to clean up the rental unit, prepare for additional expenses after she moves out. You may need to hire professionals to clean the unit and make repairs. If the tenant leaves personal property behind, your state's landlord-tenant law may require you to store it for a period of time.