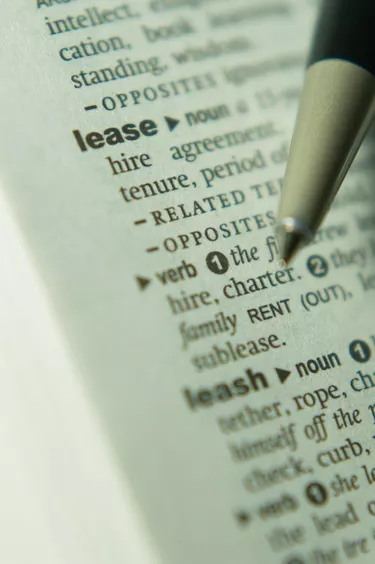 Whether someone is living with you in your primary residence, or in one of your rental homes, there are legal methods to remove a tenant from your property.when rent is not paid. Each state has its own procedures to remove a delinquent tenant, so it's important to consult with a real estate attorney or the clerk of your local court system before you attempt an eviction.
Step 1
Draw up a notice that lists the amount of rent the tenant owes and how long the tenant has to pay the past-due rent or else vacate the home. The name of this notice may vary by state, but is commonly known as a "Notice to Quit." Deliver a copy to your tenant, and keep a copy for your records. Your notice should also include your address, the tenant's address and the date.
Step 2
File a motion to legally evict the tenant with your local court system if the "Notice to Quit" is ignored. The courthouse should have the forms you're required to fill out if you don't have an attorney to handle this for you. Most forms require you to list nonpayment of rent as the reason for eviction and to offer proof to back up that claim. You will also need to include a copy of the Notice to Quit.
Step 3
Serve your tenant with a copy of the court documents. Some counties require that you have these documents delivered through a sheriff's officer. Your county clerk can tell you whether this is necessary. There will be a filing fee for the motion to evict and a fee for the sheriff to deliver the motion to your tenant.
Step 4
Attend court on the date listed on your motion to evict. Bring all supporting documents, rent receipts and a copy of the lease if you have one. The judge will most likely grant your eviction if the tenant isn't willing to pay the back rent that day.
Step 5
Contact the sheriff's office if the tenant still doesn't leave your property after the judge's ruling. Provide the sheriff's office with a copy of your approved motion to evict. Pay any necessary fees to the sheriff's department. If necessary, an officer will physically remove the tenant for you.
Tip
You may be able to utilize a legal aid office to assist with this procedure if you meet the income requirements.
Warning
Do not change the locks on your doors until after the sheriff has removed the tenant.
Things You'll Need
Notice to Quit

Motion to Evict

Filing fees

Supporting documents

Sheriff's office fees