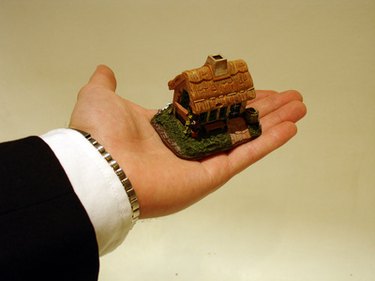 When you default on your rental agreement, there will be a number of alternatives for you to pay your rent or quit. You will receive an Unlawful Detainer, which is a summary by the court describing what is owed to your landlord. You have five days to answer back to the courts for the reasons of not paying your rent on time. Then, if you have not answered the Unlawful Detainer in a timely manner, you will receive a Writ of Possession by the courts reversing the property back to the landlord. By this time you have a number of days before a sheriff's deputy shows up at your doorstep to put you out.
How to File a Motion to Stay Eviction in California
Step 1
Go to the court that has been assigned to your eviction within five days of receiving your Unlawful Detainer. The address will be located on your Unlawful Detainer.
Step 2
Prepare to complete a form called Answer--Unlawful Detainer (UD-105). If your landlord has made any mistakes in filing an Unlawful Detainer against you, then you may have probable cause to file a Motion to Quash Service or a Demurrer. A Motion to Quash is when the landlord didn't serve you the Summons and Complaint (Unlawful Detainer) by hand. A Demurrer is when the landlord didn't provide accurate information at the time of filing his eviction against you.
Step 3
Prepare your answers correctly. Ensure you provided all the pertinent information on the form to protect yourself and answered your landlord's complaint.
Step 4
Talk to a lawyer or legal aid for advice. There are legal aids available to help you at the court to help you fill out the forms.
Step 5
Prepare to pay filing fees at an estimated cost of $160. If you owe more than $10,000 in rent, there can be an increase of approximately $307. If you request a jury there will be a cost of $150.
Tip
If you don't have enough money to pay the court fees, you could request a Waiver to Pay Court Fees (form FW-001), and an Order on Court Fee Waiver (form FW-003) for filing in the Superior Court. The court could approve your request once they have evaluated a written financial statement by you at the time of request. Keep in mind that the court may ask you to pay the court fees at a later date.
The court will set the trial date 20 days after receiving your filed answer. You will receive the date and time in the mail by the court.
If you really want to stay in the property, if you file bankruptcy it will stop the eviction immediately. When the Sheriff arrives at your doorstep to lock you out, all you have to do is show your bankruptcy petition and that will create an "Automatic Stay" for all state court actions against you as a debtor.
Warning
When you request a jury, make sure that you have a strong case to fight the landlord; if not it will lead to immediate eviction.
Filing bankruptcy to remain in the property a little longer will be a waste of time and would bring a huge expense to you and frustration to your landlord. It may take longer to evict you, but the landlord will have his rights to file a Motion for Relief against you, because you do not have any equity in the property, so it will not be part of your bankruptcy petition. Then you still have to move anyway and incur more legal fees, plus your past due rent that you owe him.