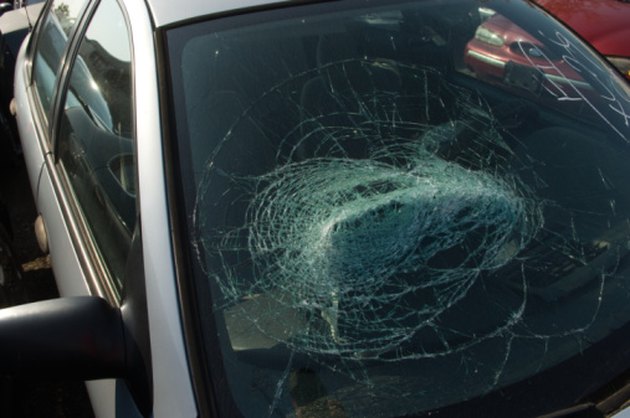 In the insurance industry, a deductible is the amount of money you must pay to your insurer before it will pay for your claim. Auto insurers offer deductible waivers for various circumstances, but just like with rates, each company will differ. Before signing your auto insurance policy, make sure to ask about deductible waiver options for your comprehensive, collision and uninsured motorist coverage.
Collision Coverage
If your auto insurance policy includes broad collision insurance, your deductible will be waived if the accident was deemed less than 50 percent your fault. If you were found to be more than 50 percent at fault, you will be responsible for paying the full deductible. Like its name suggests, broad collision is more expensive than limited or basic collision, which requires a full deductible regardless of fault. Depending on your insurer, some collision policies provide a deductible waiver or reduction if the insurer was able to recoup the loss from the third party. For an additional premium, you also have the option to purchase a collision deductible waiver for uninsured motorist accidents.
Uninsured Motorist Property-Damage (UMPD)
An uninsured motorist protection-damage, or UMPD, policy covers your vehicle repair in the event that you are hit by an uninsured party. Unlike a collision policy, which usually has a deductible around $500 or higher, UMPD does not require a deductible but only covers up to $3,500 in repairs. Uninsured motorist liability protection, which covers your medical bills after an accident with an uninsured driver, requires a deductible.
Comprehensive Glass Replacement
Comprehensive auto insurance, which covers vehicle damage not caused by collision, usually comes with a $100 to $300 deductible at claim time. However, some insurers will waive this deductible for windshield glass replacement, according to AutoInsurance.org.
Miscellaneous Waivers
Some auto insurance companies provide deductible waivers or reductions if you take your car to the insurer-recommended body shop after an accident. Other insurers throw in bonus deductible waivers for problems such as lock replacement. If you are renting a car and pay with a credit card, your collision deductible may be waived by the credit card company, but liability is your responsibility.