The Supplemental Nutrition Assistance Program, or SNAP, formerly known as the Food Stamp Program, allows low-income households to purchase the food they need to feed their families. But to participate in this program, recipients must first go through an application process, which includes providing information to prove eligibility. Before you get started, you probably want to know whether you meet the requirements for the program.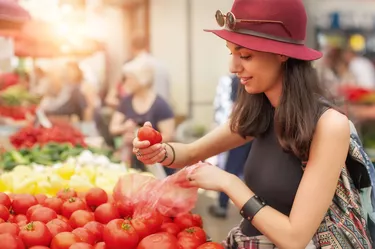 Basic Eligibility
SNAP benefits help individuals and families by providing extra funds to purchase groceries each month. The USDA provides information to help you determine eligibility and apply for benefits. Financial verification goes beyond merely providing information about your family income. Federal regulations require that your income falls below the poverty line, an amount that is subject to change so check with your state SNAP office. A household's gross income must fall within 130 percent of the poverty level and its net income must fall within 100 percent. Your assets are also taken into consideration: If you have an elderly or disabled family member, you'll need to have $3,500 or less in assets, but you'll only need to meet the net income limits. Without such a family member or dependents, you'll need to have $2,500 or less in assets.
Your income includes any money you earn, cash assistance, unemployment insurance and child support. Assets include anything you own that could be used to pay expenses, such as money in bank accounts. A home and retirement savings don't count as assets and, depending on your state, you may not have to declare your vehicle as an asset. If you're between the ages of 19 and 49 and don't have dependents, you'll need to reapply after three months to continue benefits, but with dependents, you'll need to reapply every six months. Benefits can last from three months to three years. Able-bodied adults without dependents will also need to participate in a work program unless they have a disability or other condition that exempts them. They will be able to get SNAP benefits only for three months within any three-year period unless they participate in a qualifying work or training program at least 80 hours a month. They may also be eligible to participate in a workfare program where they work a set number of hours a month in a state-approved program, with the hours dependent on the benefits they're receiving.
How to Apply
To qualify for SNAP benefits, complete an application and submit it to your state SNAP office. There's a prescreening tool that helps you determine eligibility before you go through the application process. In many cases, once you've completed the application, you'll receive a response within 30 days. During this time, you'll participate in an interview and submit proof of the information on your income and assets statement. Those who are eligible will receive an Electronic Benefits Transfer card, which is loaded with the amount of your monthly benefits. The EBT card works like a debit card at stores that accept it. Many convenience stores, grocery stores and discount grocery retailers accept EBT and display a sticker on the front window or entry door. But you can also use the U.S. Department of Agriculture's retailer locator file to find one near you. A decision on eligibility is usually made within one month of application.